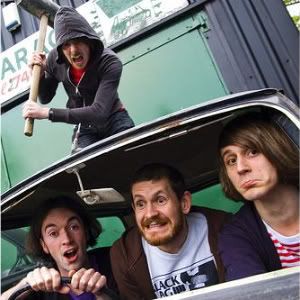 Date: November 26th, 2010
Venue: The Sugarmill, Stoke-on-Trent
Support: Young Legionnaire, Gay For Johnny Depp
Website: www.pulledapartbyhorses.com
MySpace: www.myspace.com/pulledapartbyhorses
Rating:

Leeds eccentrics Pulled Apart By Horses have managed to make a pretty good year out of 2010. Along with support slots for big and well-respected names like Glassjaw and Muse, the band have also released their debut eponymous record to critical acclaim across a spread of different publications, and what better way to end it all with one final headline stint across the UK.
Openers Young Legionnaire (***) are fresh faces upon the scene, forming only in 2009 with remnants from the bands YourCodeNameIs:Milo, The Automatic and Bloc Party. Though their hard indie rock sound shows face of the members' other projects, Young Legionnaire is a different animal of its own. Songs like 'Colossus' reveal that the band's upcoming first record may well shove them into much more mainstream access, and with an energetic yet tight and precise live act, they could do much worse.
Gay For Johnny Depp (****) are as brilliant a spectacle live as their band name is humorous and to the point. Vocalist Marty Leopard begins holding a home-made upside-down crucifix which cradles his microphone, before yelping into the opening words of 'Cumpassion'. Marty also seems to spend much more time on the floor and with the crowd than he does on the stage, taking some members of the audience by the headlock, dancing with them romantically, and even stealing one kid's shirt and stuffing it into his jeans for a few songs. The band are playing with the crowd, and the Stoke audience isn't complaining, especially come to the band's closer 'Cum On Feel The Boize', a clever play on words from the classic Slade track which gets a good bunch of people singing along gleefully.
Main contenders Pulled Apart By Horses (****) however are just as active once they're wielding their musical weapons. Frontman Tom Hudson's snarls and screams through songs like 'Moonlit Talons' and 'E=MC Hammer' are strong yet welcomed to the ear, and his jumping around the stage with guitar partner James Brown adds an extra visual element to the already fun-filled performance. Much like the GFJD, Tom decides at one point to join the crowd, and runs amock the spectators with guitar in hand, all the while bassist Robert Lee's occasional drunken falls onstage are nothing short of humourous. It's not until the set closer 'Den Horn' however that Tom pulls off the grand finale. Whilst his band mates are throwing themselves around the stage, Tom clambers his way up onto the venue's side banisters via the wall, all the way taking his guitar and playing the closing thudding riff, and closing what was the band's first visit to the city of Stoke. After such a performance, one can only hope it's not going to be their last.
Written by Zach Redrup