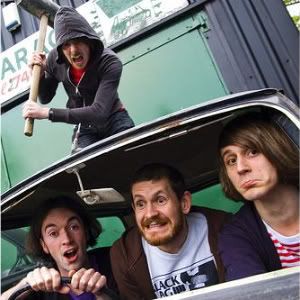 Date: June 19th, 2010
Venue: Brudenell Social Club, Leeds
Support: These Monsters, Holy State, Stagecoach, Talons, Blacklisters
Website: www.pulledapartbyhorses.com
MySpace: www.myspace.com/pulledapartbyhorses
Rating:


Leeds: the home straight on Pulled Apart By Horses' latest sprint of shows across the country. This wasn't any old homecoming however. This was to be the launch of their brand spanking new debut self-titled, and with the help of a few friends, the Brudenell's favourite adopted sons aimed to throw one hell of a prodigal's party to celebrate.
First up are Blacklisters, the result of Daughter's blistering noisecore, the spleen slicing angst of early GlassJaw and the venom and intensity of Converge thrown into a mincer and fired down the throat of frontman Billy. A razor sharp display of quick witted, broodingly smart hardcore built on brains and brawn.
Talons are next up; a fresh faced six-piece boasting two violinists in favour of a vocalist. With an eye-watering sense of scale to sate the post-rock crowd and the Southern seasoned guitar swipes of Every Time I Die and their kin, Talons deliver an unexpected sucker-punch hit of adrenaline in super-sized, boutique boxing gloves. Engrossing and high minded post-hardcore hindered only by a handful of technical difficulties on the night.
With two bands down and four more to go, Stagecoach sauntered on to take their place in front of the Brudenell crowd. Their quirk-pop efforts began with a fizzing enthusiasm; a welcome gulp of fresh air to ease on the long night's load. This initial high didn't last however and their antics soon fell into the realms of gimmick, growing staler with each passing song. By the end of their set, what should have been a light hearted set of carefree, summer coloured fun had turned sour and irritating. No longer a sweet dollop of heady relief, but a mouth full of bad breath and tortured yawns.
Holy State, with their grungy, hardcore stylings nudged proceedings back on track with a set of dependable if not entirely spectacular songs that simmered with just enough energy to push the night onwards. This was a functional performance that put just about enough substance over adventure and style to keep the night ticking over. Solid if slightly stagnant.
Just when the night felt like it needed a rocket sent through its vital organs, These Monsters stepped up with what may as well have been black powder, matches and NASA cast offs. With wailing saxophone lines, guttural, throat ripping vocals and some meandering, songs full of momentum, the four-piece reignited the room in readiment for the main event but not before stamping their own presence into the ears of the assembled masses. Many would be leaving the night with These Monsters still rattling through their skulls.
After a quick quiz hosted by Barrie of Milk White White Teeth fame (the advertised bingo had to be abandoned for timekeeping reasons) Pulled Apart By Horses made their way to the stage. It was their party, and they'd rip a bloodied chunk out of it if they wanted. Their set covered all the cult hits; 'I Punched A Lion In The Throat', 'High Five, Swan Dive, Nose Dive' and 'Back To The Fuck Yeah', alongside new material from their debut album that would be released just two days later.
From the start it was clear they were the band everyone was here for as the so far so sedate dance floor exploded into swirling currents of push and pull musical close combat. They screamed out along to each song, climbing above the crowds to dive head long into the swarming waves of people that crashed and broke upon the stage below. Pedal boards were disconnected, mic stands beheaded and amps unplugged, but it didn't matter. This was a Pulled Apart show in their favourite local venue that could barely contain them and many here felt that this could be one of their last chances to see such an intimate performance before the boys were swept off to bigger halls with higher capacities as success dictates. After some cake and candles for guitarist and birthday boy James Brown, both he and singer Tom Hudson leapt into the dance floor affray to meet their people.
As their set reached its triumphantly manic climax, Pulled Apart By Horses spilled their blood, sweat and lungs upon the stage, leaving no limb unbruised. Their audience left dripping and panting with delight as the summer night air kindly withheld the usual post-gig chill. Their live shows are what got Pulled Apart By Horses to where they are today. On the evidence of performances such as these, it's clear they're in no danger of losing any of the ferocity, impact and presence that has served them well so far. 2010 is the year of the horse.
Written by Greg Johnson