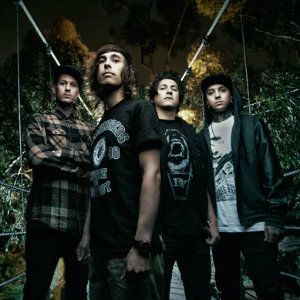 Date: September 23rd, 2012
Venue: NQ Live, Manchester
Support: The Getaway Plan / Crown The Empire
Website: www.piercetheveil.net
Facebook: www.facebook.com/piercetheveil
Twitter: www.twitter.com/piercetheveil
Rating:


Three albums in and on their first ever headline tour of the UK, it's safe to say that in the sold out Manchester venue NQ Live (which, until recently was named Moho Live) that the buzz around Pierce The Veil is pretty massive right now. It has certainley swelled massively since their last visit on UK shores, supporting A Day To Remember. 'Collide With The Sky' is truly soaring them to new heights.
Australia's The Getaway Plan (**) don't really get the moment going early, delivering some of your bog standard pop-rock with a slight rough edge here and there. Indeed, it should be noted that the guys do put some effort into getting the crowd moving, and momentarily the crowd move. It's just things are a little boring and straight-forward, resulting in a set that lacked anything note worthy or memorable.
Crown The Empire (**) were certainley memorable, but sadly for the wrong reasons. A band who are meant to have seven members turn up with only five, proving that it seems the whole ensemble provide the huge impact that is needed to make this band count. Everything sounds the same, over polished, eletronic infused metalcore to disjoint. Think about the bargain bin version of Woe, Is Me and you're almost there on imagination alone.
Thankfully, the self proclaimed Mexicore quartet that are Pierce The Veil (****) manage to salvage the night from becoming mere utter shambles. They avoid playing anything from debut 'A Flair For The Dramatic', sticking solely to their more recent material, clearly confident in their progression. Clearly, they have every right to be: 'Hell Above' sounds as intricate as it does thrilling, 'King For A Day' swells the room in fan fuelled sing song, 'Bulls In The Bronx' and 'The Boy Who Could Fly' are welcomed assaults to the ear drums, 'Hold On Till May' tugs at the heartstrings and 'Disasterolgy' is a whirlwind of post-hardcore fun.
It's taken longer than it should have, but it finally looks as though Pierce The Veil are firmly strapped in on the locomotive to take them to stardom. Let's just hope such gigs can continue to fuel them on their journey.
Written by Zach Redrup