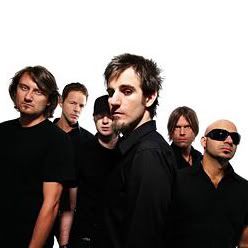 Date: June 14th, 2008
Venue: Tuborg Stage, Donington Park
Support: N/A
Website: www.pendulum.com
MySpace: www.myspace.com/officialpendulum
Rating:

Maybe a bit of a risk of act choices for Download Festival, Pendulum are definitely one of the few acts on the weekend line-up that sticks out among the others like a sore thumb. Though, their gracious welcome into the rock scene may give them a great upper hand.
The band (along with an MC) come onto the stage, and immediately treat this rock festival like it's an underground rave club, asking the crowd to bounce up and down and rave along to crowd favourites like 'Propane Nightmares', 'Fasten Your Seatbelt', and 'Blood Sugar'. Though the audience reaction is intense, and they feed off the band like a group of maggots on rotting meat, the band themselves don't really seems to be doing a whole lot onstage aside from telling the crowd to go crazy. If that wasn't enough, the MC quickly becomes dry and irritating, and as a whole brings down the performance a little.
Not a bad show by any means, but there were definitely a lot better acts both bigger and smaller who did a lot better over the weekend.
Written by Zach Redrup