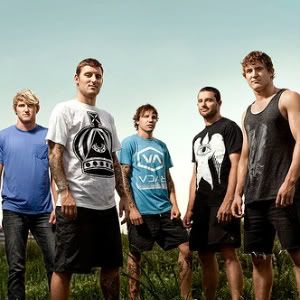 Date: November 5th, 2010
Venue: Academy 1, Manchester
Support: We Came As Romans, War From A Harlot's Mouth, Your Demise, Emmure, Bleeding Through, Comeback Kid
Website: www.parkwaydriverock.com
MySpace: www.myspace.com/parkwaydrive
Rating:

Sponsored and supported by Imperial Clothing, the European Never Say Die! tour is one of the year's most anticipated annual heavy music tours, at least in the UK anyway. 2010 sees one of the tour's best line-ups so far, covering a range of genres like deathcore, metalcore, hardcore, and a few other -cores here and there. With seven bands across just a few short hours, its a lot of enjoyable intensity to take in.
Their first visit to UK shores leaves We Came As Romans (***) in the position to set a great and lasting first impression if they hope to return here any time soon. It appears that nerves may have got to the band, with it being one for their first ever UK shows and opening the show up this is understandable. Still, the heavy yet catchy 'To Plant A Seed' is one of many insights into a band who may well have a future on British shores.
War From A Harlot's Mouth (**) are much heavier and intense, kicking things right into overdrive. Despite the intensity there doesn't seem to be very much of a connection between the German 5-piece and the crowd, nor much of an effort to try and develop one until towards the end of the set when vocalist Nico Webers submerges into the night's circle pit during 'Uptown Girl, Uptown Girl, I Had A Crush On You, Oh Uptown Girl'.
There's much more love in the crowd for St. Albans hardcore favourites, Your Demise (****). Most of the attendees in the room are wearing some form of the band's merch, and their showings of appreciation during tracks like 'The Kids We Used To Be' and 'Miles Away' shows nothing but great things ahead of them. Ed McCrae is an engaging frontman, who's made a firm transition into the group since joining just over a year prior.
The volume level of the speakers reach levels of almost painful intensity for Emmure's (***) 30 minutes in the spotlight. Their deathcore deliverence isn't anything new or exhilirating, but 'Sound Wave Superior' is one of many moments in their set which shines through keeping them on mediocre waters.
Possibly the longest running band on the tour, Bleeding Through (****) are probably one of the most respected and influencial bands to play the tour. The ignition of one of the biggest circle pits of the night through 'Kill To Believe' shows their dedicated and strong fanbase, and with the audience following every whim from Brandan Schieppati reveals him as a demanding, in-your-face and ultimately strong frontman.
Opening on 'False Idols Fall' and ending on the ever infamous 'Wake The Dead', Canadians Comeback Kid (****) lapped up the crowd who had been waiting just over two years for another appearance from the hardcore punk legends. Playing with such a viscosity and an unrivalled competency, they power through their set showing exactly why they are, still hugely in the game and on top form.
It seems a long way ago when Parkway Drive (*****) played a crazy show at the tiny Satan's Hollow just down the road, four years ago if remembered rightly, and tonight just goes to show how far the band have come since that packed out night. Playing to approximately 2500 people, they have the crowd in the palm of their hands as they catapult themselves into the brutality of 'Unrest'. Deafening screams of 'Romance Is Dead' and 'Carrion' bring the hairs on the back of your neck up and make you realise just how well this band have it. Playing a mix of the old hits and some off their new album, they deliver each song with an unbridled sense of punishment and fun upon your ears, even bringing out beachballs, inflatable boats and palm trees out during Home is for the Heartless. It's hard for such heavy bands to be able to transform their sound accordingly to big venues, but it seems to be something that Parkway Drive thrive upon. Stunning, simply stunning.
Written by Zach Redrup & Dominic Wyatt