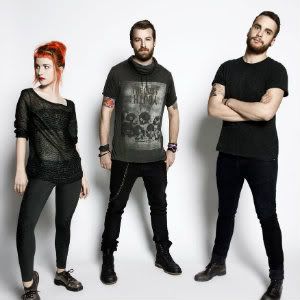 Date: December 16th, 2009
Venue: MEN Arena, Manchester
Support: Now Now Every Children, Paper Route, You Me At Six
Website: www.paramore.net
MySpace: www.myspace.com/paramore
Rating:

With their band in termoil not too long ago, it seems strange that a young yet firmly established band like Paramore might not have even been existing today on their biggest tour across the UK to date. But with things in the past and a new successful album, it seems like nothing can possibly stop the Tennesse 5-piece from taking over. The MEN Arena is a good place to start.
The incredibly young and almost young teen-looking Now, Now Every Children (**) start proceedings with their exceedingly radio friend alternative rock and synth inserts. Though clearly talented youngsters, Now, Now Every Children aren't far from the realms of boring and over simplistic. An energy is clearly within their set which is dying to be released, but it seems that minimal movement and just getting the songs out there to the crowd is their plan of action.
Paper Route (***) are completely different to the evening's predecessors. A progressive yet hard and exciting sound that combines the likes of Brand New with 30 Seconds To Mars, they brush the epic and atmospheric alongside the fast and aggressive – likely to be surfacing in your magazines and on your TV screens in the nearby future.
Things are brought down to slightly more simplistic and accessable levels when final support act You Me At Six (****) take to the MEN stage. With a new album on the horizon, new hits like 'The Consequence' and 'Underdog' bring a fresh new face to their sound and moisten the appetite for fans with their upcoming release. Older favourites like 'Save It For The Bedroom' and 'Kiss And Tell' are pulled off with an energy and finese that proves how fast and strong the boys have grown in such a short space of time. At times you wouldn't be judged for thinking You Me At Six were the headlining act, especially considering the impressive crowd particition and dedication, most notable during the ballad-esque 'Always Attract'.
Despite the easy misconceivingly impressive performance by You Me At Six, it's when true headliners Paramore (*****) make their appearance when the difference is unmistakable. Even before a single note of set opener 'Ignorance' the crowd isn't far from reaching a stage where they could be called 'hysterical'. New hits like 'Careful' are received just as well as old fan favourites 'Emergency', a sea of mobile phones and lighters light up the entire arena with acoustic slow number 'The Only Exception', and 'Pressure' brings the band's trademark back roll from guitarist Josh Farro and bassist Jeremy Davies. They bring it all to the table without any holding back. Still, it's not until 'Brick By Boring Brick' where the ballistic nature of the gig even shows up on the stage. Several members from the night's support acts jump around and dance onstage on the song's closing minutes, and show that Paramore are still going stronger than ever, and bringing a great end to a great year for alternative rock music. Just imagine if they had actually split.
Written by Zach Redrup