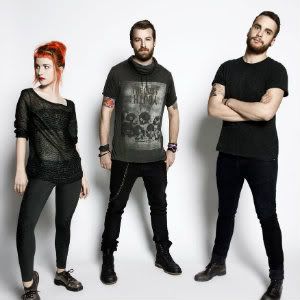 Date: January 30th, 2008
Venue: Apollo, Manchester
Support: Conditions, Kids In Glass Houses, New Found Glory
Website: www.paramore.net
MySpace: www.myspace.com/paramore
Rating:

Tennessee pop-punk rockers Paramore have just embarked on their UK RIOT! tour, and decided to bring along their friends New Found Glory and Conditions. After their first show of the tour last night, and their first show at the Manchester Apollo venue, they bring along UK band Kids In Glass Houses to spice the line-up further. An effective recipe for a riot then?
Openers, and barely known band, Conditions (**) start the night off with their application of American alternative rock. Appearance wise they seem a little like a more pansy version of Avenged Sevenfold, but in their performance they don't seem to be able to escalate to that level. They move around the stage, but barely, and nothing crazy or chaotic in the slightest appears. What's more is that every song sounds incredibly similar to the one before it, so the only time you know the set has ended is when they announce they're about to play their last song for the night. In future appearances they may need to make a little more of an effort.
The next band on the list is Welsh rockers Kids In Glass Houses (***) who've been marking their name across the UK for some time now, and doing it well. Less than a year ago they were support bands in venues like the Manchester Club Academy, and now they're supporting bands such as Paramore and Goo Goo Dolls. They play through some songs from their new upcoming album, and a few old fan favourites too, such as 'Easy Tiger', and 'Raise Hell'. The crowd are enjoying themselves aswell, with people clapping their hands along to the beat of the song, singing back words, and jumping around. Set closer 'Give Me What I Want' is definitely a favourite, with most part of the crowd on the floor bobbing about and singing most of the song right back to them, at times over powering them. Kids In Glass Houses take off, with in knowledge that they played a good show in their minds.
A short while afterwards punk veterans New Found Glory (****) come to bring some more action and excitement to the show, and to really ignite the riot of the show. 'All Downhill From Here' opens their show, and from the first second people open up circle pits and mosh pits to get pumped up and to enjoy themselves. Clearly the oldest band on the line-up, New Found Glory have many dedicated old time fans in the audience tonight, with old favourites like 'Hit Or Miss', 'Understatement', and 'Failure's Not Flattering' being just a few of the songs on their set. They also play a few covers from their recent release From The Screen To Your Stereo Part II. Their cover of 'Iris' isn't the best thing they've produced by far, but it's hard to compete with such a masterpiece of a song, and it certainly gives the crowd a moment to calm and cool down from the constant throwing themselves about. Their recent release of 'Kiss Me' goes down much better though, when everything turns back to the chaos it has been for the most part of the band's set. New Found Glory are quite the comedians too, with a lot of useless yet funny banter in-between songs, such as frontman Jordan Pundik giving his own impression of his riot. The band close with their most popular track 'My Friends Over You' to finish their night off, and they certainley did a decent job.
Headliners Paramore (****) now begin their ensue to end tonight's riot for the Manchester crowd, and start it off perfectly with 'For A Pessimist, I'm Pretty Optimistic'. The crowd are wild, and are almost literally feeding off the energy given from Hayley Williams, Josh Farro and co. After this they continue their riot-like presence with a performance of 'Born For This', where the crowd overpower Hayley on the section of the gang chant "We were born for this!" in both her section as well as theirs. Obvious shine of fan dedication for this young group. The band seem to play most of the songs from their album RIOT!, including 'Let The Flames Begin', and 'Fences', and every now and then shove in some oldies from their debut album All We Know Is Falling like 'Never Let This Go'. Popular singles 'Emergency', 'Crushcrushcrush', and 'Pressure' go down a treat, where again the crowd overpowers Hayley's vocals on several occasions. Everyone in the room knows these songs, even those who aren't even big fans of the band, or even a fan at all. Despite their efforts it just seems Paramore don't get the crowd going quite as much as the previous act New Found Glory managed to, but never the less they don't fail to entertain the crowd to an ecstatic level. Their show ends with their performance of their break-through single 'Misery Business', and almost literally the crowd go completely insane. This is a moment that most of the audience must have been waiting for, and they've deservedly been rewarded for their patience.
Paramore might not have had quite the same stage presence that New Found Glory had, but the attention tonight was definitley focused upon them. With their oldest member being only in their early 20's, this band must have a lot more juice left in them.
Written by Zach Redrup