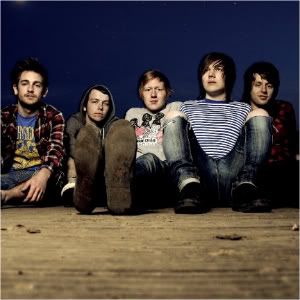 Date: March 12th, 2011
Venue: The Sugarmill, Stoke-on-Trent
Support: Kill The Doctor, Anaphero, Templeton Pek
Website: None available
MySpace: www.myspace.com/papertigersofficial
Rating:


A show consisting mainly of smaller and more local bands is always a nice change from those high-profile, established tours. It's a refreshing alteration from the millions of screaming fan girls and boys pushing their ways to the front by whatever means possible, and sometimes being caught amongst the sweat and chaos that sometimes you'd just rather avoid for the evening. Stoke locals Paper Tigers' first gig proves to be just one of these.
Crewe trio Kill The Doctor (**) began the evening with their slight pop tinged rock, getting very few people in the audience moving, and in most instances not really caring with what was happening on the stage. Though the band kept their cool, their lack of confidence and restraint definitely showed.
Things went into far heavier realms with other Stoke locals Anaphearo (***), with frontman Mike Whitmore interchanging between cleans and bellowing screams and grunts, bearing similarities to Welsh melodic metal group Bullet For My Valentine, especially with songs like 'This Is The New Profession'.
Probably the most established and well-known act of the night Templeton Pek (****) show their experience above the rest, delivering visceral and energetic pop-punk with a raw edge. The trading vocal duties between bassist Neal Mitchell and guitarist Kevin Green work well with their fun yet intense style, and with Neal bringing his microphone with its stand into the middle of the crowd in the closing two songs of their set to attempt to move the otherwise pretty dead audience.
Despite the group having a reputation behind them with their previous band name, all whilst maintaining all of the original members, it's odd to see Paper Tigers (***) headlining at a venue like The Sugarmill for what is their first live performance under the new name. Avoiding all songs created as Rumour Has It, the band opt for showcasing their fresher and more mature take on the pop-punk style. Songs like 'Felt This Before' and 'Sparks' shed light to a band who are taking the first steps into a new sound they look more comfortable in, and though not quite as energetic or confident than their main supporting counterparts, it's still early days for Paper Tigers.
Written by Zach Redrup