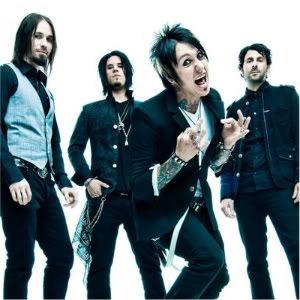 Date: April 16th, 2009
Venue: Academy 1, Manchester
Support: Dear Superstar, Filter
Website: www.paparoach.com
MySpace: www.myspace.com/paparoach
Rating:


Ever since their huge change of sound and style from their third album 'Getting Away With Murder' and onwards, Papa Roach have been one band that have lost a lot of respect and admiration – mainly from their fans of the debut 'Infest'. Still, with five studio albums under their belts and still signed to a major lable, they soldier on with a tour promoting their latest effort, 'Metamorphosis'. But, does this mean that as their music has arguably suffered, does that mean their live performance has too?
Before all that though, one of Manchester's home bred bands Dear Superstar (***) offer what is a bowl-full of hard rock and metal, pumped with energy. Not the biggest boys on the scene at the moment, the guys still do an impressive job of working the crowd up for what the rest of the night has to offer them, with lead vocalist Micky whipping them up whilst jumping against the barrier. Recent single 'Brothers In Blood' also goes down impressively well due to their popularity size, with a fair amount of the front rows aswell as rows further back singing along with the pop-like chorus hooks.
It's a shame that the quality of showmanship and entertainment is knocked down a few notches when veterans Filter (**) take to the stage. With them being the longest running band on the bill, aswell as not making any appearance over in the UK for a few years now, you'd have thought that Richard Patrick and co. would be a little more to talk about afterwards than this. Instead of a set and show that should want you begging for more, they deliver one which could bore you almost to death. Not that they sounded awful, but with a crowd of many who'd have came mainly for this band alone, aswell as not being able to top the much younger band before them, you'd have thought Filter would bring a little more to the table.
Despite all the unnecessary shit they've been getting over the past few years, Papa Roach (****) are far from dead – the fact the show is sold-out and the room is jam-packed with screaming fans is just one reason to back this up. The other would be that regardless of their choice of sound or song, they still sound as massive as they were back in 2001. Keeping a setlist to appease to the older fans aswell as the new too, with songs including 'Dead Cell', 'She Loves Me Not', 'Forever', 'Broken Home', and recent single 'Hollywood Whore', Papa Roach are just reeling off anthem after anthem – no matter how cheesy the most part of 'Hollywood Whore' actually is. Every song is executed with near perfection, bursting with energy, and reeking of the classic rock 'n' roll attitude that just makes them a band that are worth seeing live before you think about slating them, and reminds us just why we loved this band from the start. When set closer of the band's kick-off single 'Last Resort' opens up with the famous intro riff the crowd explodes into many seperate mosh pits, like a field of landmines. Every single word is sang back to Jacoby Shaddix and the band, paying homage to many of Britain's first encounter with the band.
It's hard to think of a time when Papa Roach will be as widely appreciated as they were back when 'Last Resort' first hit our stereo systems, but on this night they serve one of the biggest fuck you's they could!
Written by Zach Redrup