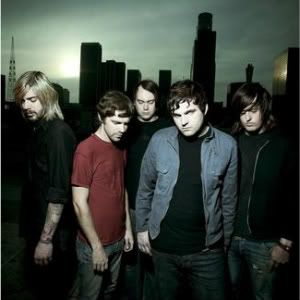 Date: February 28th, 2012
Venue: O2 ABC2, Glasgow
Support: Admirals Arms, Dead & Divine, The Chariot
Website: www.normajeannoise.com
Facebook: www.facebook.com/normajean
Twitter: www.twitter.com/normajeanband
Rating:


Thirty minutes after doors, and ABC2 looks a very desolate place. It seems the intended audience for this gig may have indeed opted for Eyes Set To Kill and Shadows Chasing Ghosts, who are playing just a couple streets away. However, given this line-up, I don't think that even Derren Brown could predict how this night will go.
Parisian hardcore quintet Admiral Arms (**) appear on stage to be greeted by around fifty freezing Glaswegians standing a good few feet away from the barrier. This seems like it's going to be a very long night. The ADTR-esque quintet suffer tonight from a pretty poor PA during their set, so judgment should perhaps be reserved for another night before completely writing them off.
Next up, are Canadian post-hardcore rockers Dead And Divine (***), who have, by the process of time elapsing, a much healthier crowd in front of them. The Toronto lads play a very decent and consistent set, and are joined on stage at one point by The Chariot's Stephen Harrison at one point for some guest vocals. This solid performance warms this ever-increasing crowd up for the next act though.
The Chariot (*****) soon take to the stage, and pretty much tear the roof off what now seems like a sold out to capacity venue. Energy, aggression, ability; three words which easily describe the Atlanta quintet as they push this venue to its limits with an array of stage diving, crowd surfing, circle pits, making the band seem like a narcotic that every single person in this venue is addicted to. The underground hardcore boys just have an element of something special, as Josh Scogin blasts into a unique cover of John Lennon's 'Imagine' and The Who's 'My Generation' throughout the set, and this just has a very punk feel about it. This is exactly what a gig should be like; letting go of absolutely everything and just letting emotion hit the roof. Don't dare blink though, as that roof, at one point, has Stephen Harrison batman-ing whilst playing a catchy riff, before dropping himself head first into this crowd, and this gig descends into chaos. No one seems to want this to end.
Norma Jean (*****) finally take to the stage though, and the crowd sardine themselves in front of the barrier in anticipation of probably one of the most underrated bands on the metal scene right now. These boys do well to keep up with their hometown counterparts, but they probably just about manage it, as they play through a rip roaring set, which is completely versatile across pretty much every release since their formation. Yet again, crowd surfing aplenty, as the band are joined on stage by no less than twenty different people at various points throughout their set. Cory Brandon and his compadres are all constantly gesturing to get the volume increased on the PA, but it seems they won't be content until everyone's ears and noses are bleeding here.
Songs like 'Robots 3 Humans 0' have this crowd off their feet, on the stage and bouncing about in every which direction. However, the highlight of tonight is when Josh Scogin of The Chariot joins them on stage for the finale. When the crowd becomes pretty much a mass circle pit, Scogin and Brandon both climb onto the barrier and Matt Marquez absolutely destroys his own drum kit, both figuratively and literally mid-set. I think everyone inside the O2 ABC2 tonight may just consider moving to Atlanta after this.
Written by Gary Cassidy