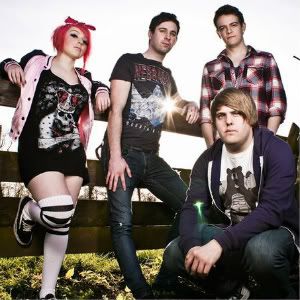 Date: November 19th, 2011
Venue: Harry's Bar, Stoke-on-Trent
Support: Breaking Satellites
Website: None available
Facebook: www.facebook.com/nextstopatlanta
Twitter: www.twitter.com/nextstopatlanta
Rating:

Heading out on a little headline run of the UK, Preston's Next Stop Atlanta are on of the nation's untapped sources of pop-punk talent, and are putting in every effort to get there name out there before dropping their new EP early next year. Whilst at their Stoke stop (and penultimate overall) date of the tour, we stopped by at the secluded Harry's Bar to catch the guys in action.
One of the slight downsides of the show was the lack of people who ended up making an appearance, and sadly even local support act Breaking Satellites (**) didn't manage to bring many of their friends and fans along either. Still very much in the early stages of their infancy (having only formed less than a year ago), the Stoke quintet are clearly still trying to find their sound, trundelling through a small selection of genres throughout their set. A little reserved in their delivery too, it's obvious there's a lot of ground to work on in the BS camp, but for a band at their stage it could've been a hell of a lot worse.
It's unfortunate that the numbers in the room still remain low for Next Stop Atlanta (****), but the few of those lucky enough to be in attendance, it was almost like a glorified practice for the group. Though still a relatively young act as far as bands go, NSA shed talent well beyond their years. Frontwoman Georgia Peters has a voice that would make any girl green with envy, and her feisty and energetic movements even with the low numbers in attendence is something to admire. The other three members, Nik Taylor, Blake Sale and Ant Joy are all deserving of a mention too, and their softened rendition of 'Fourteennineeighty' is enough to make hairs stand. Peeks into new offerings like 'Get In The Van' and 'I'm Not Morrissey' shows promise of the band only growing from strength to strength, and given the right help and support from the industry, the band's upcoming release could be the push they need to getting one step closer at becoming a notable contender in the British pop-punk scene.
Written by Zach Redrup