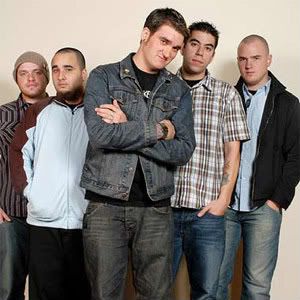 Date: April 29th, 2007
Venue: NIA, Birmingham
Support: N/A
Website: www.newfoundglory.com
MySpace: www.myspace.com/newfoundglory
Rating:

Possibly the oldest band going here tonight is none other than pop-punk grandfathers New Found Glory. With the band going for over ten years now, they're here to prove tonight that the older you are, the cooler you are. These guys are the reason why you need to respect your elders.
Blasting open their set with one of their more popular songs, 'All Downhill From Here', the crowd get right into it, bouncing up and down, dancing, and generally having a great time with New Found Glory's upbeat vibe. The entire crowd seems to know the lyrics to 'Failure's Not Flattering' and fan favourite 'Dressed To Kill', showing their utmost dedication to this group. The band also get their fans to do a huge circle pit, with loads of kids running around and having fun; half of them fall on their arses, but still get up with laughter and a grin on their face. Who said moshing about isn't fun?
This band knows how to have a good time, and they also know how to joke around with one another, and take the piss out of their bassist Ian Grushka. Clearly a group of humourous guys who are here to enjoy themselves and much as their fanbase. They end their set with a fan favourite and their most popular offering 'My Friends Over You'. The crowd just love what this band are giving them; the kids are in the palms of their hands, and the band could play them like putty if they wished.
Truly a great act, and one to bring good comedy and fun back to pop-punk.
Written by Zach Redrup
Founder & Editor for DEAD PRESS! | Atheist and antitheist. | Judge of the quick & the dead since 1989.