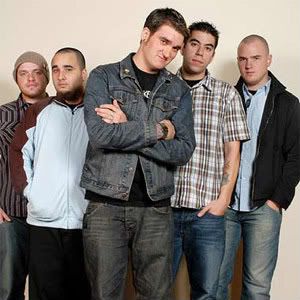 Date: November 19th, 2008
Venue: Club Academy, Manchester
Support: International Superheroes Of Hardcore, Me Vs. Hero
Rating: 8/10
Website: www.newfoundglory.com
MySpace: www.myspace.com/newfoundglory
It's a very rare occasion where a largely established band, at a position where they can play venues not far from the size of theatres and be featured on highly popular alternative music festivals such as Give It A Name and Warped Tour, play a small club venue on a headlining tour holding a capacity of around 300 spectators at the very most. Well, New Found Glory go ahead with all of the above on November 19th 2008, playing at the Manchester Club Academy venue, two days before they're due to play the much bigger Manchester Academy room.
If this still doesn't sound too infrequent of an occasion for you, then how does the fact that the opening act is none other than New Found Glory's newly created parody side-project International Superheroes Of Hardcore (***). Their fast-paced and straight to the point hardcore punk sound is substantially different to that of the pop-punk nature from New Found Glory, opening the members up to write and display their other influences. The added humour factor into the band – such as calling themselves names like Captain Staightedge and Sgt. Soy, and writing songs about car safety – is just an extra benefit.
Due to the short back catalogue and length of songs at ISHC's disposal, local punk rockers Me Vs. Hero (****) are up for the interlude between the parody act and the big headliners. Their insatiable and delicious attack of fun powerpop and pop-punk fun with the odd burst of harsh hardcore vocal work makes Me Vs. Hero an exciting a worthy act for such an uncommon event. Songs like 'Hand Me The Keys To The Massey' and 'Star Raiders And Space Invaders' go down a treat with the crowd, even inciting the odd mosh pit or two. The boys even have heart and reason in their performance, respectfully dedicating 'Upbeat Down' to their recently departed guitarist Alex McCulloch (R.I.P.), and shedding off lots of natural energy in their performance for their friend.
Headliners New Found Glory (****) however completely blow things to another proportion when they announce that not only is this show highly limited for tickets and venue size, but that they're playing an all requests show too. Throughout the night the fans are screaming (and even writing requests on paper and shoving it in the air) for the band to play their favourite songs. Songs like 'Sincerely Me', 'Sucker', and 'Better Off Dead' are requested and played, with the band blasting through song after song to get as many requests out there in the set time they've been given. Some of the band's songs which were requested had been forgotten and had to be relearned again by the members there and then. Popular singles didn't go amiss either, with 'Dressed To Kill' and 'All Downhill From Here' making appearances at some point, with every word screamed across the room from speakers and fans alike. One fan even got up onstage and offered to pay £50 for the band to play one song for them. If you weren't even one keen on the pop-punk masters, then the banter inbetween songs is enough entertainment for an evening anyway.
People at this show have experienced something that'll probably never happen again. The first UK appearance for International Superheroes Of Hardcore, an all request show by New Found Glory, and all in a small basement club environment.
Written by Zach Redrup