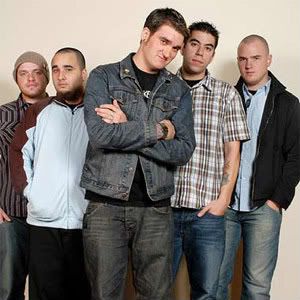 Date: February 15th, 2012
Venue: Academy 1, Manchester
Support: While She Sleeps, letlive., The Blackout
Website: www.newfoundglory.com
Facebook: www.facebook.com/newfoundglory
Twitter: www.twitter.com/newfoundglory
Rating:


It's about time that Kerrang! magazine finally hosted a tour where the whole line-up is actually pretty decent. In the past, there always seems to be one band that's out of place and/or not worthy of being on the bill and/or just turns out to be pretty terrible live. 2012 might arguably be the first year where this isn't the case (though, sadly a lot of hate is directed at last minute Sum 41 replacements, The Blackout). So, well done Kerrang!, you did good.
Opening up what could very well be the best tour line-up Kerrang! have put together for their tour to date are soon-to-be-the-next-big-thing While She Sleeps (****), who rightfully set things off to an energetic start. Still with just one release under their belt, it'd be understandable for the guys to show some level of boredom still playing the same songs they have been for around two years, but the likes of 'My Conscience, Your Freedom' and set closer 'Crows' are just as fresh and vibrant as ever.
Hotly tipped letlive. (*****) have a huge reputation for their live shows, and tonight is no exception. Whether you're a fan of their fast-paced Glassjaw-esque post-hardcore or not, frontman Jason Butler is a wonder to watch in himself, with the remaining members helping to solidify the strong hype chugging this band along the past 12 or so months. 'Muther' shines as one of the solid moments of the band's set, as does set closer 'Casino Columbus', ending with Jason jumping into the crowd, microphone in hand screaming the song's final lyrics.
It's hard to understand why they're 'welcomed' onto the stage with a large proportion of boos due to replacing Sum 41's spot on the tour last minute due to medical reasons, but Welsh sextet The Blackout (****) take it all within their stride, introducing themselves saying "we're Sum 41". The guys even shove in a cheeky and admittedly rather commendable cover of 'Fat Lip', which along with their homourous onstage banter (including discovering who in the crowd doesn't have faces and trying to work out how they cheer with one), one thing The Blackout certainley know how to do is perform live. Mainly steering away from any of their material from latest album 'Hope' was a surprising yet smart move for the guys, and as a result they managed to win most of the 'haters' over.
With the night soon coming to an end, it seems only fitting that one of the biggest names on the pop-punk scene close things off. It's performances like tonight which answer just why New Found Glory (*****) have managed to maintain popular and relevant after all these years. The bouncy upbeat nature of 'Hit Or Miss' and 'All Downhill From Here' ignite choruses and fans singing back every word from the front to the back. Homages to their influences old and new by covering The Ramones' 'Blitzkrieg Bop' and Green Day's 'Basket Case' adds an extra touch of fun to their set too. These guys won't be losing their name as the "godfathers of pop-punk" any time in the near future.
Written by Zach Redrup