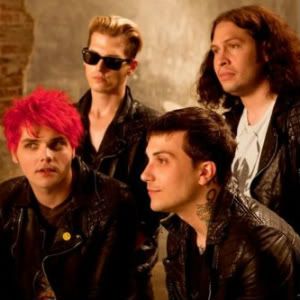 Date: July 9th, 2011
Venue: Roundhouse, London
Support: Evaline
Website: www.mychemicalromance.com
MySpace: www.myspace.com/mychemicalromance
Rating:

There for the iTunes Festival spread across London, My Chemical Romance are slotted in at the Camden Roundhouse with support from Evaline. The Roundhouse is generally a fairly small sized venue for My Chemical Romance's modern status, having not long played at impressive sized arenas such as the O2 and Wembley in the recent years. Nevertheless, that doesn't make it any less of an amazing performance on their behalf, providing a rare opportunity for fans to get that little bit closer to their idols.
Openers Evaline (***) are a fairly standard support act. They seemed to have been hyped to be a lot more than what they portrayed in their performance, but they still managed to warm the crowd up enough for the main attraction later, which for a support act is the main objective at hand. Despite frontman Richard Perry's attempts to put on an energetic performance, it seems like he's far more interested in making sure he was looking pretty for the live stream than he was for the quality of his performance; the music on record provides a fair amount of power which he failed to deliver particularly well in a live setting. Despite the lack of vocal power, the band was still clear in packing some punches with their skills in their instruments. Minus the lack of vocal impact, Evaline still managed to scrap together a half decent set.
Big guns My Chemical Romance (*****) however are a whole different story, and dominate the stage like it was their own. Coming into a countdown to their catchy and repetitive single 'Na Na Na', the crowd instantly jumpstart and the song is brilliantly received. The band provide a strong, energetic show with an energetic crowd from start to finish. Having had their most recent album 'Danger Days: The True Lives Of The Fabulous Killjoys' out for a while, the band mix up their setlist with a lot of classic to modern hits helping them to sustain both fans of their old and new material.
With several different styles, the band do well to vary up the material across their sett to create sudden changes in atmosphere. A perfect example of this was the transition between their classic emo-hit 'Give 'Em Hell Kid' to the far more party orientated 'Planetary! (GO)', where they changed their performance from an average song to a high-energy, bouncy performance, resulting in what was probably one of the best received songs of the night. 'I'm Not Okay (I Promise)' got the audience moving much faster to the increased tempo, maintaining energetic and prepared to go into some of their punkier songs like 'Destroya' and 'Vampire Money'. The pace is brought down at one point with the likes of 'Welcome To The Black Parade' and 'Sing' shoved into the set, both of which also showed Gerard Way's ability to interact with the audience, and displayed the strongest sing back from the crowd.
The band's stage presence was generally great throughout the whole night, from Gerard Way's speeches to the audience about hardship, dedication and praise to their fan base, to Ray Toro laying on the stage whilst tearing out some guitar solos. The band kept up an amazing atmosphere on stage and off throughout the entire night. It was also through songs such as their acoustic version of 'Cancer' that you could tell just how much Gerard Way and co. have improved live and how much they've all matured collectively as a band. My Chemical Romance have come a long way over the years, and this performance just hit the nail on the head. If their upcoming headlining sets Reading/Leeds festivals is even half as good as this, then everyone is in for a treat.
Written by Matthew Collins