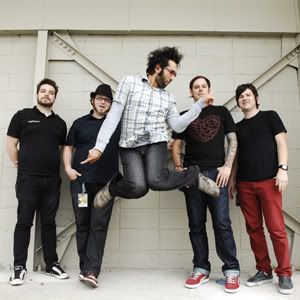 Date: April 20th, 2012
Venue: Ruby Lounge, Manchester
Support: Morain
Website: www.motioncitysoundtrack.com
Facebook: www.facebook.com/motioncitysoundtrack
Twitter: www.twitter.com/motioncitymusic
Rating:


Having taken off a bit of time so they could write some new material, Motion City Soundtrack are now well rested and eager to please. Tonight's gig is somewhat of a special one, where Manchester was voted the number one place for the band to perform (other than the two London shows the nights before). Playing in the intimate venue that is the Ruby Lounge, I for one am very excited to see them again.
Opening act are Leeds indie rockers Morain (****), who look like they are Topshop the Band, with their top bottom of their shirts all done up and their hip young, hair styles (I know I sound like an old man, but this is what living in Wales for 18 years does to a person). But, these aren't your run-of-the-mill, Debenhams-advert, flaccid indie rock band, far from it in fact. Their sound is far more vibrant and energetic that most bands in their field and I, as well as the rest of the crowd, could feel myself getting into their songs. Take a listen to 'Animals' and you'll see that they're a cut above the rest. Although their music is nothing ground-breaking, it's still enjoyable and thoroughly entertaining.
Taking the stage, Motion City Soundtrack (*****) are greeted by screams and shrills of ecstatic fans. Wasting no time, they plough though a set of the best of their back-catalogue with the likes of 'My Favourite Accident', 'Her Words Destroyed My Planet' and 'Capital H'. I think a special mention is in order for 'Last Night', with the last verse paraphrasing what an ex will have said to you during a break-up. With a haunting accuracy on what was said, it's a devastating situation anyone can relate to. Hearing those words live really brought back past experiences, that coupled with the atmosphere of the room and the swell of violins in the background made it a very emotional few minutes. If you were there and didn't feel this way, you're a clearly a soulless robot with a heart of stone and probably laugh at dying puppies. No, I am not over sensitive, SHUT UP! I just have something in my eye.
It was a wonderful gig where everyone was screaming/shouting/singing along the each and every word. The band themselves were genuinely enjoying it too, playing with beaming smiles and genuine, heart-felt enthusiasm. With a strict curfew of 10:30, they made sure they played the crowd favourites as well as a sneak preview of the upcoming album with their new single, 'True Romance'. As I'm writing this, I'm drinking coffee, as to sooth my aching throat that was torn to shreds last night. Now, that's a true sign of an outstanding gig if there ever was one.
Written by Andrew Roberts