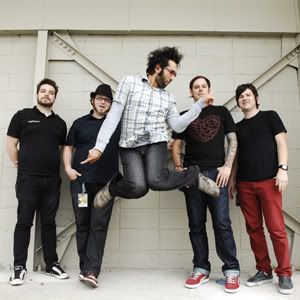 Date: September 20th, 2012
Venue: Academy 3, Manchester
Support: ME / Now, Now
Website: www.motioncitysoundtrack.com
Facebook: www.facebook.com/motioncitysoundtrack
Twitter: www.twitter.com/motioncitymusic
Rating:


As I return to the gloomy skies of Manchester for my ominous looking fourth year at university, what better way to kick the semester off than by going to see one of my favourite bands of all time, Motion City Soundtrack. Having not long released their fifth studio album, 'Go', the band are eager for the fans to hear their new tunes in a live environment. Not to mention that the gig was moved from the roomy Academy 2 to the much smaller venue of Academy 3, which is a bonus because MCS thrive in a cosy and intimate environment.
Opening act Aussie four-piece Me (****) are an amazing choice for support. They have a musical style very similar to that of Muse and their lyrics are peppered with the whimsy and wonder of Panic! At The Disco. Frontman Luke Ferris is outstanding tonight; not only are his live vocals some of the strongest around, but he's so god damn talented, playing the keyboard guitar and bass all with ease. The band as a whole have an amazing chemistry and put on an amazing show. If you take anything from this review, it should be that you go and check out these guys now.
Up next are Minneapolis threesome Now Now (**) who seem (to me at least) to be out of place here. While, yes, on paper, they seem like the perfect support for MCS, they just don't quite cut the mustard tonight. Their songs, while nice and melodic, just all blend together into this boring, bland indie number and their crowd interactions skills aren't great either. Put it this way, if Napoleon Dynamite was in the crowd, their stage banter would have made even him feel uncomfortable. Now Now do have potential though and I can see them going down a treat at an acoustic gig, but tonight they're just not on form.
Greeted by many screaming fans, Motion City Soundtrack (*****) stride onstage. Opening with the almighty 'Capital H', the crowd instantly burst into song with them and happily bop along too. It seems that MCS are incapable of putting on a bad show. Having seen them a few times now, I think this has been the best time yet, mainly because the band seem to have been rejuvenated. While they play with a genuine smile on their face during the staple set songs such as 'Broken Heart' and 'My Favourite Accident', it is when they play songs off their new album that their happiness really shines through. Without missing a complicated beat or complex lyric throughout the night (bar a microphone hiccup during 'L.G.FUAD'), the band play to perfection and leave the stage with the crowd sweaty, exhausted and begging for more. You know, MCS are, excuse me, a damn fine band (yes, that is a Twin Peaks reference, what of it?)
Written by Andy Roberts