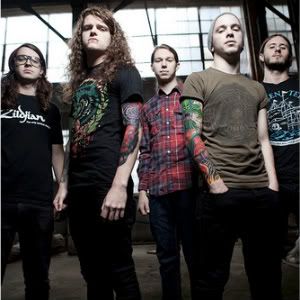 Date: October 25th, 2011
Venue: Sound Control, Manchester
Support: Chunk! No Captain Chunk!, Abandon All Ships, Chelsea Grin
Website: None available
MySpace: www.myspace.com/missmayi
Rating:

On their latest visit to the UK, Miss May I seem to be drawing in the crowds. Whilst Sound Control is quite a small sized venue, the amount of people queuing up outside is impressive, so much so that the roadies have to battle through the mass of eager fans to actually get back to the tour bus.
Kicking off the night to a half-full room are French pop-punk outfit, Chunk! No, Captain Chunk! (****) who don't let the small crowd deter them. They tear through their personal brand of sugary sweet clean vocals mixed with rough screams of vocalist Bertrand Poncet that steadily draws in more people throughout there performance. Crowd pleasers such as 'We Fell Fast' and 'XoXo' drum up circle pits and hardcore dancing from the steadily increasing number of people, all of which draws to a climax with new single, 'In Friends We Trust'. An impressive performance from an up-and-coming band who are definitely one to watch.
Next to the stage are Abandon All Ships (**), who provide their take on the electronic-metal mash-up championed by Attack Attack! (the American one, of course). Whilst the screams of front man Angelo Aita are indeed powerful, the impact is lessened when the auto-tuned singing of Martin Broda is paired with it. The crowd seem happy enough though, starting circle pits at every opportunity to favourites such as 'Geeving', despite the odd rhythm of the bands constant jumping between heavy guitars and synths. This combined with the fact that when talking to the crowd the front man can't say anything other than "fuck" as every other word offers a quite disappointing performance.
Being named after an act of maiming somebody, you'd expect a fairly aggressive performance from Chelsea Grin (*****) and they do not disappoint. The screaming and roaring of vocalist Alex Koehler thunder through the venue as he looms over the crowd even when he's down in the thick of the crowd at the barrier. The title track of their latest album, 'My Damnation', ensures the crowd whips up a huge circle pit which is a feature of the whole performance. How Koehler still has any vocal cords left after such a performance is a mystery, but one that will keep Chelsea Grin in peoples' memories for a long time.
Headliners Miss May I (*****) take to the stage in front of a packed out room of fans chanting their name. As soon as they tear into opener 'Forbidden' a pit explodes in the centre of the room that they maintain throughout the gig, keeping breaks short between songs keeping the tempo up. Some bands may not be too big on crowd interaction, but this certainly isn't something to be said of Miss May I. Front man Levi Benton only ever stops his snarling screams to get the crowd to clap, fist-pump or pick up their friends to be crowd surfed. He does not allow the crowd to stop which really keeps them involved for the entire gig. Songs like album title track 'Monument' and 'I Won't Forget' draw huge reactions from the crowd, and throughout the performance clean vocalist Ryan Neff shows that the previous bands' clean vocals weren't loud enough. Finishing on crowd pleaser 'Relentless Chaos', Miss May I end their set on a high, and their fans leave the room slightly bruised and battered, but very satisfied.
Written by Jonathan Barlow