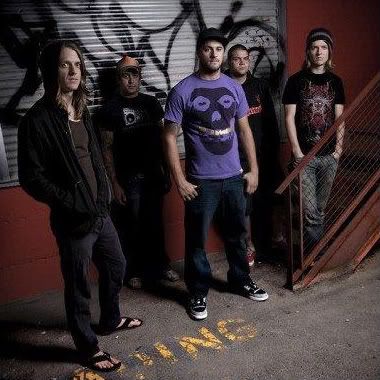 Date: September 27th, 2009
Venue: Moho Live, Manchester
Support: Empires Fade, The Number 12 Looks Like You, Your Demise
Rating: 7/10
Website: www.miserysignals.net
MySpace: www.myspace.com/miserysignals
2009 has been a busy year for the boys in Misery Signals; constant touring across various countries and continents with various bands and a few festivals here and there, all to promote the band's latest full-length 'Controller'. The band even have a t-shirt available on this last leg with all the venues and dates they've done this year, and they nearly ran out of room. Definitely a big year.
On their last few dates for a good long time, Moho Live in Manchester starts off with a local support act, Empires Fade (***). Though they're clearly not veterans in their style, the Mancunian 5-piece aren't a band to just dismiss. Energetic and brutal from the get go, their metalcore presence on the stage is welcomed by both the familiar and the less so, with many of their local fans often running up to grab the mic out of vocalist Alex's hands.
Things are tuned to more frantic and crazy, though at times arguably more melodic for The Number 12 Looks Like You (****) and their huge funnel of influences to power them. Though this is their first time on UK shores even with 4 successful albums under their belts, it's clear that it's been an eagerly awaited event for many to see the mathcore band in the flesh. Steering mainly towards newer material like 'The Garden's All Nighters' and 'Jay Walking Backwards', the recent loss of second vocalist Justin Pedrick is obvious, but the solo efforts of Jase Korman are admirable serve the 4-piece more than enough justice, and make the UK's wait worthwhile and rewarding.
Leed's based Your Demise (*****) turn things to cataclysmic levels of insanity. Literally seconds into the band's set, the crowd implodes into a field of hardcore dancers and mosh pits, and those not involved rush to the front screaming lyric for lyric of each song. Newly recruited vocalist Ed McRae is on top form, jumping in on the action before him whilst screaming his heart out. At the look of the crowd's reaction to the band and their material, you wouldn't be surprised if those unfamiliar to this scene thought that they were the main act, becoming a tough support act to top.
Sadly Misery Signals (***) can't quite cut it. It's not that they don't put on a great show, full of raw energy as per usual, it's just tonight the band can't quite pull it off as well as some of the supporting acts. The fact that frontman Karl Schubach is suffering from a cold may be a contributer to this slight dent on this show of the tour, but ultimately the band might just be having an off night. Still, numbers like 'Weight Of The World' and 'A Certain Trigger' still manage to erupt an impressive pit none the less, and can safely leave the band with the knowledge that things could've gone a lot worse.
Written by Zach Redrup