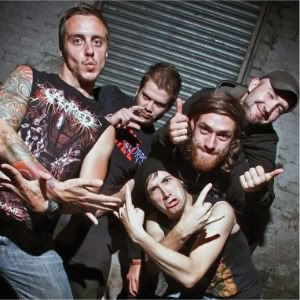 Date: February 21st, 2011
Venue: Academy 3, Manchester
Line-up: Sylosis, Bleed From Within, While She Sleeps, Anterior
Website: www.sylosis.com
MySpace: www.myspace.com/sylosis
Rating:

It's quite clear that upon entering the room that it's going to be a good night for all. It's very rare nowadays that a venue is at nigh on full capacity before the bands have even took to the stage, this however goes to show how highly regarded every band on the line-up of this Metal Hammer sponsored truly is.
First up is Anterior (***), coming on stage to an array of devil horns awash with a sea of hair, and from that point onwards they don't mess about. The drums pound your head as much as the solos make love to your beautiful ear drums, as their fine fusion of melodic metal and thrash clearly goes down well with the crowd. Hailing from Tredegar, Wales they mix the set with songs from the critically acclaimed 'This Age Of Silence', and their upcoming studio album which is unnamed as of yet. It's safe to say that I've never witnessed so much simultaneous head banging and horns held aloft as I did during their set. It just goes to show that they're clearly on the ascendency.
With so much hype around them currently, Sheffield's While She Sleeps (*****) hit the stage to a frenzy of a pit as their welcome. Lapping it up they play 'The North Stands For Nothing' in almost its entirety and do it so well, it'd be a challenge for Bleed From Within to surpass. This is just one piece of hard evidence that the quintet will be huge this year after the release of 'The North…' and the non-stop pummelling the crowd pursues in their vigour. There's no doubt that they are going to get better and better. Closing with 'Crows', they obviously have everyone in the room eating out of the palm of their hands, and deservedly so; a solid performance.
I've always admired Bleed From Within (****) from afar for many a year, and always wondered when they would finally make the final push to make it to where they deserve. Clearly talented at what they do as well as obviously loving it as well, it's only a matter of time surely before it happens; however, fate is in their hands. For tonight they nail their colours to the mast upon their entrance as hardcore dancing galore ensues, and a wave of people are constantly invading the stage to share it with vocalist Scott Kennedy. Playing with a tonne of energy, they leave the crowd bleeding from within (excuse the poor pun) and leave us with little use for our imaginations. Stirling.
As with all of the bands on this tour, Sylosis (****) are basically just on the cusp of their break through; still waiting to break through the wall as such. Having been around for such a long time on the underground metal scene, they submit the crowd to a variety of the back catalogue, ranging from their earlier 'Conclusion Of An Age' and the slightly more recent 'After Lifeless Years'. Very worthy headliners if I say so myself, they clearly have the majority of the crowd here to see them primarily, and it would seem that lovely romantic metal is being made at the sound desk tonight because everyone just seems to be loving it.
Overall an apt performance for the headliners and certainly befitting of the evening, with all bands being nothing short of brilliant.
Written by Dom Wyatt