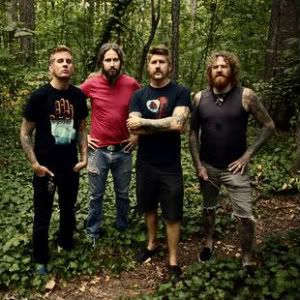 Date: February 6th, 2012
Venue: Academy 1, Manchester
Support: Red Fang, The Dillinger Escape Plan
Website: www.mastodonrocks.com
Facebook: www.facebook.com/mastodon
Twitter: www.twitter.com/mastodon
Rating:


Red Fang (****) make the perfect support. They are essentially Mastodon's little brother, not necessarily copying them, but they are very similar in style and sound. Although they're a tad shy as they walked onstage, it didn't take long from them to find their stride and once they did they were unstoppable. Apart from being a tad repetitive in places, their prog-metal vibes whip up a frenzy and the crowd instantly fall in love with them. These guys are touring later on in the year, and judging from tonight's performance it looks like it's going to be a hell of a show.
Inviting The Dillinger Escape Plan (****) to support was a stroke of genius. Even if you aren't particularly a fan of their unconventional music, then at least you will have something to watch because, my god, they put on a stunning performance. From the very first second of 'Panasonic Youth' they are nothing but ferocious energy, treating the stage like a jungle gym, jumping and running about all over the place. How they can do all that and play is beyond me, but it's fucking amazing to watch. A decent portion of the crowd is somewhat stunned by their antics, but the rest just go with it and create a impressive yet brutal pit. Although Greg's vocals aren't as clear cut as on records, his live screams make up for it tenfold. As always, a truly outstanding performance, even if it did polarise the opinions of crowd somewhat.
As the familiar intro of 'Dry Bone Valley' rings out throughout the venue, Mastodon (*****) materialize onstage to and are greeted with an almighty roar. There is no introduction, no crowd stirring, no show boating, just music. Let's be honest, Mastodon don't need to do any of that, their music good enough to be appreciated without any gimmicks. Plus, this saves a bit of time, so they can jam in a few more songs, cramming in a mammoth 23 songs! 23! You certainly get your money's worth with these guys.
As always, their performance is flawless, not a beat or note missed and considering they play like 1000 notes per minute, this is mighty impressive. Like many others, I was looking on in awe at the sheer talent on display. Playing a decent chunk of their new album whilst mixing in a decent portion of their classics, they could not have played a better set. Yet again, they have out done themselves, playing one of the best shows of their career. God damn it Mastodon, Y U SO GOOD?!
Written by Andy Roberts
Founder & Editor for DEAD PRESS!