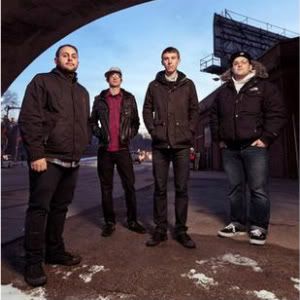 Date: February 2nd, 2012
Venue: Forum, Tunbridge Wells
Support: The Story So Far, Save Your Breath, Who's Driving? Bear's Driving!
Website: www.defendpoppunk.com
Facebook: www.facebook.com/manoverboardnj
Twitter: www.twitter.com/manoverboardnj
Rating:

It's a freezing cold night in Kent, and the setting for this show is an old public toilet turned gig venue, which looks just as unimpressive on the inside as it does from the outside. This said, it is a cute little venue, and perhaps the perfect setting for these bands who are more than suited to playing small club shows.
Arriving late to the venue, after heading for the warmth of the nearest Subway franchise, I unfortunately miss most of the bizarrely named Who's Driving? Bear's Driving!'s (**) set. Fortunately though, they're not all that great, and their snyth fused pop-punk (not too dissimilar to The Wonder Years of old) fails to rouse any sort of reaction from the crowd and leaves this reviewer thinking he may have been better off staying in the aforementioned sandwich shop.
Newport's Save Your Breath (***) go some way to changing this opinion, as their more established take on the pop-punk genre is refreshing compared to the previous band, but is likely to get lost in a competitive field. Songs like 'Nothing Worth Having Comes Easy' sure are catchy and they do just enough to win the crowd over, just about.
Fortunately for everyone involved, The Story So Far (*****) are far better. The Bay Area band knows how to work a crowd and put on a show, which is exactly what they set out to do the moment they hit the stage to 'Swords And Pens'. Lead vocalist Parker Cannon is excellent throughout huge sing-alongs like 'Quicksand' and 'Mt. Diablo' and his fairly sombre stage presence is strangely enthralling on climatic closer 'High Regard'. Only a band with this much talent could start a party on a cold night like this.
Sadly for Man Overboard (****), they have to follow that act, but fortunately for the crowd they are on top form tonight despite vocalist/bassist Nik Bruzzese being ill. They rattle through 'Rare' and 'Real Talk' to a rapturous reception from the crowd, both those down the front and at the back. Having never been documented as the finest live band in the world, it's refreshing to see songs like 'Dead End Dreams' and 'Something's Weird' being performed with such gusto. With more than a fair amount of help from the crowd, the band concludes proceedings with the massive 'Love Your Friends, Die Laughing', which is enough to warm the heart of anyone on this cold winters eve. Having spent the last four years of their musical careers trying to 'defend pop punk', it can be said based on this that pop punk is far from dead.
Written by Oliver Thompson