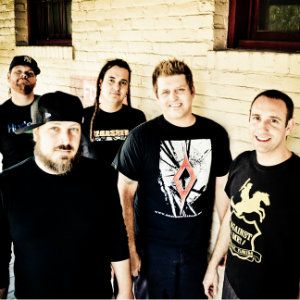 Date: November 5th, 2012
Venue: Academy 1, Manchester
Support: The Story So Far / Man Overboard / New Found Glory
Website: www.lessthanjake.com
Facebook: www.facebook.com/lessthanjake
Twitter: www.twitter.com/lessthanjake
Rating:


Vans Warped Tour has always been about bring together popular, well-established bands as well as introducing us to some up-and-coming newbies and that's just what tonight promises. Two giant acts from the last 15 years with two bold and budding support acts. Finally, after 14 years of waiting, the Vans Warped Tour has decided to grace the shores of the UK again. Even though it's only a one-off day festival in London, they have at least created a juicy 5 date warm-up tour for us to all enjoy.
Kicking off the night in style is ballsy pop-punk act, The Story so Far (***), who deliver an excellent opening set. It seems the vast majority of the crowd is familiar with their work and belt out every word to every song. Even after only the set opener, there are bodies flying over the barrier. Though the sound isn't perfect, it doesn't deter the masses from really getting stuck into things. An excellent opening set from a promising young band.
There's no nice way to say this, but Man Overboard (*) kill whatever vibe was in motion. Sounding like a poppier version of Hawthorne Heights but with worse lyrics is hard to bear for 30 minutes straight. Three guitars and a bass for a pop-punk band is just unnecessary, especially when the riffs are nothing more than mindless thrashed out power chords (they could have been more complex, but the distortion killed whatever variety the riffs held). Both vocalists are horrifically off pitch for 95% of their set too.
Co-headliners New Found Glory (****) have a nice little treat in store for us. To celebrate the 10 year release anniversary of their album, 'Sticks And Stones', they play it in its entirety. Circle pits, incessant jumping, bouncy pits; their set is nothing short of relentless energy and enjoyable chaos. Given only an hour to play, they hardly stop and manage to cram in all of the album as well as a good few other hits, including 'All Downhill From Here' and their cover of 'Kiss Me'. Definitely the loudest set of the night, with every member of the audience screaming each and every lyric. New Found Glory, you never disappoint.
Legends of ska punk Less Than Jake (*****) are on fire tonight. Busting out mainly old school songs, such as 'How's my Driving, Doug Hastings' and 'Nervous In The Alley', the crowd love every last minute and use up every last drop of energy they have left. But, it's not just about moshing or dancing, it's also about Less Than Jake's formidable talent of writing some fucking good songs. 'The Science Of Selling Yourself Short' sounds just as good, if not better, than it does on record and sends shivers up my spine as I belted out the words. It was an outstanding performance and a great way to end a spectacular gig. Bring on Vans Warped Tour!
Written by Andy Roberts