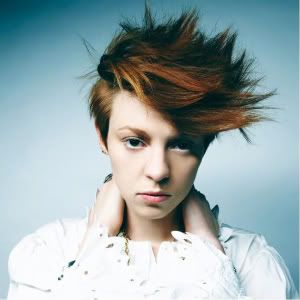 Date: September 24th, 2010
Venue: Piccadilly Gardens, Manchester
Support:
Website: www.laroux.co.uk
MySpace: www.myspace.com/larouxuk
Rating:

There were a few reasons why this gig would be great; the most important one was that it was free, the second one was that it was a secret gig, and the third? Well, La Roux was playing! Over the past week the details of this 'secret' Manchester gig slowly emerged for the public to piece together, and those who figured it out or got told about it by those who did got treated to an amazing free show by one of electro-pops most recent fast rising stars.
With no support bands to warm the spectating crowd up and into things it was straight into La Roux's set! Even with three torn tendons she still danced around whilst singing, someone cheekly suggested doing the migraine skank whilst singing instead. La Roux impeccibly mixed some conversation with the crowd between a couple of the songs, and since of the relatively small crowd it allowed for some short conversation to happen! The set only lasted a short span of 40 minutes, but with some of the big favourite La Roux tracks like 'Bulletproof' and 'In For The Kill' played, the set still went down a storm.
A massive thanks to Nissan putting on this free gig for everyone, and with only the vaguest of corporate pushes from the band of "that car looks quite nice" made the event not look like some pushy corporate event, even if really it actually was. Some of the best things in life really are free.
Written by Joni Andrews