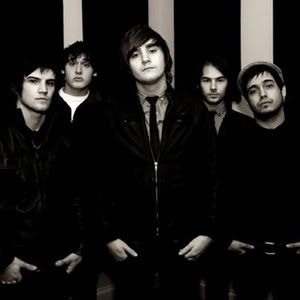 Date: July 11th, 2007
Venue: Apollo, Manchester
Support: N/A
Website: www.kidsinglasshouses.com
MySpace: www.myspace.com/kidsinglasshouses
Rating:

Kids In Glass Houses are currently one of South Wales' most hotly-tipped bands. Yet, with this in mind, some people may be asking 'Why the hell are they supporting a band like The Goo Goo Dolls?' Well, tonight they're here to show the older side of the audience what they're made of, and that they know how to make good music like their peers.
They open up with 'Easy Tiger', one of their more interactive songs, with a sing-a-long chorus of "Doo dah-doo doo-doo-dah-doo". Even members of the audience who hadn't previously heard of the band join in with this infectious song. Following is a new offering called 'Girls', which is a little more sinister than their other material, the chorus instructing "Let me have my wicked way with you.". A few more songs in, it's clear that the audience have receieved the band well, perhaps surprising given the lack of similarity to tonight's headliner.
The band end their performance with their most popular track, and also their most recent single release 'Me, Me, Me'. Straight from the opening line "We take three steps forward, and three steps back," a good half of the audience are singing along. Lead singer Aled decides to get a little closer to the audience, standing right beside the stage barrier. A few moments later the song has finished, their turn is over, and it's time for the headliners to give it their turn.
Kids In Glass Houses won the audience over tonight, and have certainly improved their sound and stage presence from a few months back. Nothing but good things are ahead of these boys if they keep it up.
Written by Zach Redrup