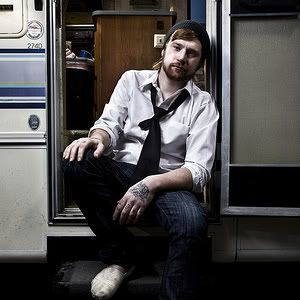 Date: October 9th, 2012
Venue: NQ Live, Manchester
Support: Colour Blue / Dae Bryson
Website: None available
Facebook: www.facebook.com/jonnycraigmusic
Twitter: www.twitter.com/jonnycraig4l
Rating:


It would be fair to say that the past few years have seen Jonny Craig all over the news pages of music publications across the world; highlighting some personal problems, joining and leaving bands Emarosa and Dance Gavin Dance and considering giving up music entirely are just a few to mention. However, it now seems that thankfully the talented vocalist is back on the tracks to normality and with it he brings his first ever solo run to the UK.
Opening two-piece Colour Blue (***) set a nice mellow tone for the evening, pulling off a few covers of songs in a more stripped down and bare basics aesthetic, including the likes of OutKast's hit 'Hey Ya' and a Brand New fan favourite, 'Jude Law And A Semester Abroad'. Still, it would be great to see just what this duo can truly pull out of the bag in terms of original material.
Following up shortly after is wannabe rap star Dae Bryson (**) and though he has the bare blueprints there, you can't help but think that some of the material he's bringing to show is just a little too rushed and forced. Still, Dae is a polite conversationalist in-between each track and there's definitely the foundation layed for future efforts.
Though the room isn't packed out to the brim, the crowd that have gathered for headliner Jonny Craig (****) are more than enough to create the intimate setting. Despite not bringing along a live band for the UK visit and resorting to just a backing track on a laptop, it's Jonny's raw live voice which drops jaws and lifts spirits. Songs such as '7AM, 2 Bottles And The Wrong Road' and 'I Still Feel Her, Part III' see the crowd singing along to Jonny onstage, all packing closely to the barrier. New track 'Nothing Ever Will' brings a nice insight into what we can expect to come from the singer next following his disbanding of all bands and his acoustic cover of Justin Timberlake's classic 'Cry Me A River' shines as a crowning moment of the evening.
Love him or hate him for some of his past doings, it is undeniable that Jonny Craig holds a truly exceptional talent with his voice. It seems he's finally cleaned up and doing music for the love of it once again with a clear mind. Let's hope next time he can avoid injury.
Written by Zach Redrup
Founder & Editor for DEAD PRESS!