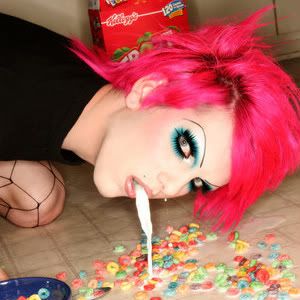 Date: April 13th, 2010
Venue: Club Academy, Manchester
Support: Synthetic Season, Brokencyde
Website: jeffreestar.buzznet.com
MySpace: www.myspace.com/jeffreestar
Rating:


Anyone who's spent some amount of time on MySpace – enough to know what a MySpace, or even an Internet celebrity is should have at least heard of who Jeffree Star is. For those of you who haven't, Jeffree is one of the Internet's most famous celebrities, even going as far as calling himself. Along with a fashion line, this fame also spawned him into a career in music… if you can call it that. Releasing his album just towards the end of 2009, Jeffree and co-headliners Brokencyde – also host to hostility for their music – are the forefront to their 2 DRUNK 2 FUCK tour.
Young duo Synthetic Season (*) are the perfect support choice, combining bits and bobs of both headliners to create what aims to be fun electro-pop. Fun it is not, but hard to enjoy it is unlike their recordings, revealing that a bit of studio magic touches here and there are clearly a great aid to their success. Sure, the music is easy to dance along to and that's clearly taken over a large amount of the crowd, but with the addition of Ash's mostly out-of-tune vocal work Synthetic Season reach levels of zero pleasure to anyone who knows got the right amount of brain cells to distinguish what's musically acceptable.
Unexpectedly crunkcore pioneers Brokencyde (**) are a slight step-up from the two-piece monstrosity, but still prove not to be anything worth spending your time elsewhere doing something far more beneficial and enjoyable. The New Mexico quartet a playing through backed up tunes through a MacBook and are armed with microphones, standing mainly in a line across from one another, resulting in the look of a traditional boy band. To their credit, screamer and main rapper Se7en (yes that's his name, and no that's not a typo) delivers screams and growls that hold sustainability, and the group are definitely energetic – but that's where the pros of their performance ends. Their cringe inducing banter asking the band if they like to get drunk and smoke weed along with embarrassing lyrics about making their "pee-pee hard" in 'Sex Toyz', and even the stupid screams in 'Bree Bree' make Brokencyde ones to avoid.
Things should have surely only got better after nothing but shambolic attempts of music, but sadly that's not in Jeffree Star's (*) arsenal tonight. Opening up with recent single and video release 'Get Away With Murder, Jeffree's band bring a live instrumentation presence along with his instrumental backing tracks to avoid the two-dimensional aspect of it all, but ultimately the music just isn't very good or original. More new material like 'Bitch, Please!' and 'Beauty Killer' gets the crowd going insane for Jeffree who's pacing across the stage and dancing like the diva and queen he intends to be, and oldies like 'Ice Cream' bring a similar reaction from the crowd, but again it's just not very good. The Internet Celeb's occassional bursts of scream don't brush well against the usual speaking-into-the-microphone-with-a-slight-lift-to-appear-like-it's-singing approach he goes with, and though this is all a part of the music he's making… for the third time it's just not that good. Saying three times has to mean something, right?
All three acts should maybe think about going back to the chalkboard with any future efforts they have. Jeffree Star and the other lot seem like decent guys, but seriously, if this is what the future of music is going to sound like then I'm scared for the industry and the public. God help us all.
Written by Zach Redrup