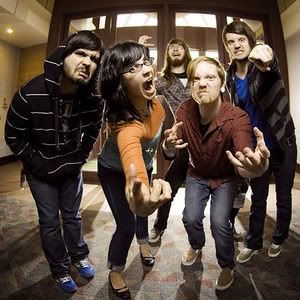 Date: September 12th, 2012
Venue: Sound Control, Manchester
Support: For All Those Sleeping / Vanna / Oceano
Website: www.iwrestledabearonce.com
Facebook: www.facebook.com/iwrestledabearonce
Twitter: www.twitter.com/iwabo
Rating:

For all those who didn't know by their name alone, iwrestledabearonce are easily one of the most eccentric metal bands around today. Even if you haven't listened to them yet, simply take a look at some of their song titles and this will easily confirm it early enough for you. Now, heading onto their first headline UK tour, and their first time on British shores since the temporary/permament (yet to be confirmed) change of frontwoman from Krysta Cameron to Courtney LaPlante, let's see if they can maintain their reputation.
Openers For All Those Sleeping (**) are a little diminishing and for some part an effort to watch. Their efforts to try and get the crowd moving seem very half-arsed, yet with some of the punch in their overall set this could have been very different. Their cover of 'You Belong With Me' by Taylor Swift gets a few people singing along however and the screams from frontman Mike Champa are impressive, but it's also worrying how his cleans are far better than their designated clean singer/bassist London Snetsinger.
Vanna (*****) however couldn't be more definite in terms of their live presence, and bring the spark of energy and life into the small room that was dying to bloom. Opener 'Lost And Bound' gets things moving straight away, and frontman Davey Muise is one of the main catalysts to this. Throughtout the bands set, he's getting into the thick of the crowd, jumping across tables, throwing a bin, climbing on top of the stage speakers and even kindly allowing some of the crowd to scream along to the closing moments of their set finisher, 'Trashmouth'. Exceptional.
Things reach a whole other level of heavy with Oceano (***), who are one of the bands who truly display the 'death' in 'death metal. Despite their brooding crushing lows along with Adam Warren's near unholy screams and roars, the energy levels seem to die down a little. That is, until Adam incites a circle pit, sending the crowd into a flurry, with some people tripping over tables or colliding with the huge pole in the middle of the room. One guy recording the action on his iPad almost has it knocked from his graps amidst the carnage.
It's down to the kooky outfit iwrestledabearonce (****) however to close proceedings, and they do so in their traditionally choatic manner. Songs like 'You Ain't No Family' and 'You Know That Ain't Them Dogs' Real Voices' are equally as obscure and enigmatic as they are bludgeoning. The band's (potentially) new frontwoman Courtney LaPlante seems to struggle towards the beginning of their set when reaching the higher clean sections, but a few songs in and a bit more warmed up, the likes of 'Karate Nipples' and set closer 'Taste Like Kevin Bacon' really pack the punch.
The more die-hard fans are always going to moan about Courtney LaPlante being put in place for Krysta Cameron, but the truth is this is all still up in the air. Krysta may still return, and even if she doesn't, Courtney makes a worthy fill-in or new vocalist either way. Let's see what happens and take it from there.
Written by Zach Redrup