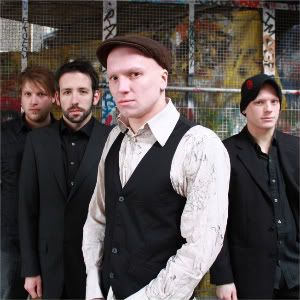 Date: November 24th, 2010
Venue: Moho Live, Manchester
Support: The Perfect Crime
Website: www.inmeofficial.com
MySpace: www.myspace.com/inmeofficial
Rating:

With a career lasting over 13 years, 4 full-length albums and a recent 'Best Of…' compilation under their belts, Essex 4-piece InMe are one of the most underrated and unappreciated acts in the alternative rock scene today. They know how to treat their fans well though, by embarking on a special 'Best Of…' tour, seeing them perform each of their 4 albums in its entirety across the UK, all performed in London with each album also getting a performance in another city elsewhere. In the Northern capital of Manchester, their second and arguably most mainstream record 'White Butterfly' is their dosage, and it's not going spared.
Cambridge-grown openers The Perfect Crime (***) are a ballsy and rough-around-the-edges trio, sounding tight and strong throughout their set. There are very brief moments where things seem a tad out of sync with one another, but the fast and visceral execution of frontman Adam Mortaro's riffs is something to appreciate. His vocals are another notable quality, with his screams and roars sounding not too different from Reuben's frontman Jamie Lenman, beefed up alongside Chris Roberts' deep bass and Scott Campbell's pounding drums. Unfortunately with Adam's cleans the sound is far too low, but overall The Perfect Crime are the perfect warm-up for the treat ahead.
That treat comes along in almost no time at all. Walking onstage to an electro meshing dubstep number, InMe (****) are more than praised by the crowd of Mancunians stood before them. From the opening notes of '7 Weeks' the surge begins, and rarely ever stops. An almost packed out venue throws themselves to and across one another with the album's heavier offerings of 'Otherside' and 'Just A Glimpse', and in contrast with such sweaty frail bodies and destruction, the acoustic offerings of 'Parting Gift' and 'White Butterfly' tug harshly yet favourably at the heartstrings of all in the vicinity. Much like their supporting predecessors, InMe come across sound problems just one song in before 'So You Know', but thankfully issues soon become revolved and the evening ensues like nothing ever happened. 'Faster The Chase' and 'Chamber' see the band's greatest and most connective moments of the show, where almost every voice in the room can be heard singing back Dave McPherson's gruff yet melodic vocals. With a few non-'White Butterfly' tracks slung in at the end for good measure such as 'Firefly' and 'Myths And Photographs', InMe display what could arguably be one of their best performances in Manchester thus far.
With a tour such as this, InMe prove time and time again that they're worthy of more credit than they're given. Whether they receive it is a matter of time, but if they can produce quality albums and shows time and time again then that's all that matters.
Written by Zach Redrup