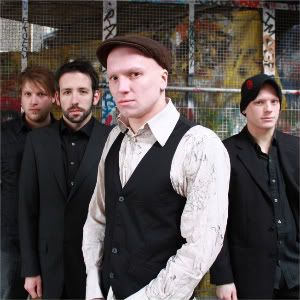 Date: March 24th, 2012
Venue: Moho Live, Manchester
Support: Mojo Fury, LostAlone
Website: www.inmeofficial.co.uk
Facebook: www.facebook.com/inmeofficial
Twitter: www.twitter.com/inmeofficial
Rating:


Opening act Mojo Fury (****) give a thorough and entertaining performance. Sounding like a toned down Pulled Apart By Horses, their ambient indie rock entertains the crowd. Honestly, there isn't much movement, but there rarely is at this point in the evening. Lead singer Michael Mormecha has a unique voice, one perfect for rock though, and belts out some captivating songs such as 'To Comprehend'. A great band for sure and one that you should check out soon.
Taking the reins are punk rock trio LostAlone (***). Looking a little like The Ramones but sounding like a cross between 30 Seconds To Mars and Snot, these guys put on a damn good show. Lead singer and guitarist Steven Battelle spends most of his time running around like a toddler on cocaine, the fact he can do this whilst playing some complicated solos is impressive to say the least. At times, his vocals were a bit all over the place, but when they hit, by god did they sound good. These guys are doing a headline tour in May, and if you're at all a fan of punk rock then go check them out.
Headline act InMe (*****) waste no time in getting things started kicking things into gear with 'The Pride''s opening track, 'Reverie Shores'. Shaking the set list up a bit, they play songs which they haven't touched live in a while, such as 'Soldier' and 'Natural', not to mention trying out a few other things, like Dave's "Aisle of Rock" in the middle of 'Faster The Chase'. InMe seem to be heading in a more metal direction, breaking out the likes of 'Nova Armada' and 'Moonlit Seabed', which have breakdowns chunkier than a deep pan pizza topped with bricks.
In true InMe style, they are towards the end of a mammoth tour and you can sort of hear the wear and tear in Dave's voice, sounding a tad strained from night after night of gigs. Don't get me wrong though, it is still just as powerful as ever and sounds phenomenal. Plus, you have to admire their sheer diligence and determination. During 'Moonlit Seabed', Dave gets a bit too into the motion, and manages to smack his head on the ceiling, temporarily knocking himself out. Looking somewhat dazed and definitely concused, he still plays on and finishes the remaining 35 minutes of the gig. Despite his condition, he was still able to play some of the most complex riffs as if they were from muscle memory alone. InMe put on yet another excellent show tonight, with each member excelling in what they do, as usual. I have yet to see these guys put on a bad show, and I honestly don't think they have the capability to do so.
Written by Andrew Roberts