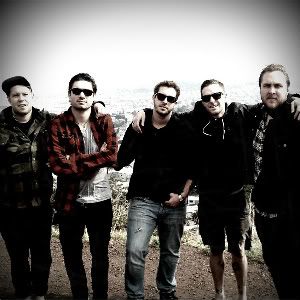 Date: December 10th, 2011
Venue: Classic Grand, Glasgow
Support: Hostage Calm, Apologies I Have None
Website: www.avalancheunited.com
Facebook: www.facebook.com/iamtheavalanche
Twitter: www.twitter.com/iatanyc
Rating:


It's a freezing Saturday evening in, and one which sees Twin Atlantic draw a sold out crowd just a few hundred metres down the road at a 3000 capacity venue. Unfortunately, it seems that this is one factor which appears to slightly hinder the number of people in front of the small Classic Grand stage tonight.
Apologies I Have None (***) put in a solid performance to get this gig underway, after local pop punkers Screw This Way who were meant to open the show, failed to attend the gig. It's just a pity the boys from London have as little as twenty or thirty people in front of them spread amongst this venue to showcase their talents to.
Following up, Hostage Calm (****) are next to the stage, a Connecticut-based punk outfit, who manage to scrape every single member of the crowd to the forefront of the stage for their rousing set. Their performance is laced with moral and political beliefs, as Chris Martin (don't worry, not that one) opens up about his support for gay rights and supporting smaller bands amidst this rip-roaring punk fest.
Once headliners I Am The Avalanche (*****) take to the stage, there's no doubt who everyone is here to see, as around 100 people manage to pitch themselves almost onto the stage for the Brooklyn boys who haven't played a Scottish show in over six years. Right from opener 'Holy Fuck', IATA have this placed almost bursting at the seams, as Vinnie Caruana makes the most of the lack of a barrier to interact with his loving fans, who scream every word back at him with aplomb. In a set which perfectly combines latest album 'Avalanche United' along with the remainder of the band's back catalogue, the energy doesn't drop for a second. Old hit 'Green Eyes' brings a less direct, more melodic approach along with 'I'll Be Back Around', all balanced out with the rough and ready approach of 'The Gravedigger's Argument'.
Latest single 'Brooklyn Dodgers' is one of the hits of tonight, spurring a mass sing song, conveying the atmosphere of a sold-out capacity show. Vinnie Caruana repeatedly expresses his thank yous to the crowd before expressing the band's 'Gratitude', one of the heavier songs in IATA's arsenal, which sees the crowd and the band become one at the front of the stage. Yet again, the band thank the fans, capping off an incredibly impressive punktastic performance with 'Beating', stating that they don't have time for an encore. However, a quick chant of "Avalanche United" changes that, as Vinnie grabs the band back on stage and blast through 'This One's On Me'.
An immaculate performance from I Am The Avalanche, and if they do even half as well when they support Brand New on their UK tour at the start of next year, you'll be hearing a lot more "Avalanche United" chants soon.
Written by Gary Cassidy