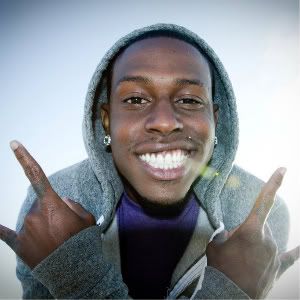 Date: February 8th, 2012
Venue: Club Academy, Manchester
Support: Asteroid Boys, Marmozets
Website: www.hyrodahero.com
Facebook: www.facebook.com/hyrodahero
Twitter: www.twitter.com/hyrodahero
Rating:


Hyro Da Hero is back once again on UK soil. It seems we can't keep him away. If he isn't here supporting the likes of The Blackout or 3OH!3 then he's back in America supporting huge acts such as Deftones or even 50 Cent. Due to personal reasons, he had to cancel this originally scheduled for Autumn tour. But, after a swift reschedule he is back and eager to promote his debut album, 'Birth, School, Work, Death'.
First on the bill is the Welsh equivalent of The Beasties Boys: Asteroid Boys (**). It's unfortunate for them that they face the almost impossible task of warming up a near empty room. Through no fault of their own, there's just no atmosphere, no matter how hard they try. Their music isn't bad and it would have had a much bigger impact if there was a bigger crowd. There's a bit of movement when they break out a bit of dubstep, as well as an impressive wall of death towards the end. Considering the options, they did a good job entertaining what little crowd was present.
Now, during the Marmozets' (*****) performance, their was just no movement from the crowd, none at all. They just stood there. Therefore, I am going to safely assume that they're all idiots, for Marmozets were quite simply in-fucking-credible. If you're not familiar with them, they sound like a much more chaotic Flyleaf or a toned down version of Rolo Tomassi. Becca Macintyre's vocals were both terrifying and outstanding, in fact the whole band excelled themselves, creating this awesome technical monster that took over the venue. Why the crowd did not get involved I don't know, but even when the band themselves got in the pit to try and stir things up, they were having none of it. Quite possibly one of the best live performances I have ever seen that just seemed to go complete unappreciated. Shame on you crowd.
Man of the hour Hyro Da Hero (****) bounds onto the stage, like an over excited puppy. Even though there's no more than 150 people, he has enough energy for all of them. Opening with the catchy-as-hell 'Beam Me Up Scotty', has the whole room jumping along from then on. The whole evening is just one energetic anthem after the next, with Hyro running around the stage like a man possessed. Not to mention Hyro's backing band, who are amazingly talented and able to keep up with his break neck speed with ease. A personal highlight for me was when he sampled Killswitch Engage's 'My Curse'. Yeah, I know that's not of great importance, but it made my night.
It was a short and sweet performance, not lasting longer than 50 minutes, whilst playing to a less than half empty room, but it was still a bloody good gig. No doubt Hyro will return soon, supporting someone on their UK tour, forever building up his fanbase. So, hopefully, next time he has a headline tour, he will have a bigger following and a bigger crowd. For all those who were thinking of going and then didn't, you guys missed out. It was like £8 for a ticket, and it was worth every penny.
Written by Andy Roberts