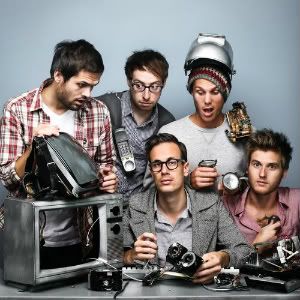 Date: June 1st, 2011
Venue: Monto Water Rats, London
Support: Gold Motel, The Dangerous Summer
Website: www.hellogoodbye.net
MySpace: www.myspace.com/hellogoodbye
Rating:


For the most part, one thing that has cropped every time that Hellogoodbye has been mentioned recently is; "Are they still together? I didn't know they still did anything". Well, judging by the packed out Water Rats venue, it is more than apparent that they are still together and still going strong.
Unfortunately for Gold Motel (**), they have the unenviable task of playing to a half empty room, opening up to a band that people will undoubtedly be anxious to see. Whilst they have been billed as ones to watch by a few people, they look and sound like a hotel function band with each cheery pop song as dull as the next.
Fortunately for everyone, the next band up are The Dangerous Summer (*****) who put in the perfect performance. Their melodic indie, pop-punk tunes sound huge inside the confines of the tiny venue. AJ Perdomo's voice is flawless throughout as he powers through emotional run-throughs of 'Good Things' and 'The Permanent Rain'. New song 'No One's Gonna Need You More' is incredibly catchy, whilst the ever brilliant 'Where I Want To Be' sounds fantastic. It's a shame that they're not better received, but their set is brilliant nonetheless.
For Hellogoodbye (***), playing the intimate Water Rats venue must be somewhat disheartening seeing as they were originally booked to play the much larger Islington Academy. Howeve,r no such emotion shows across the faces of any of the band members as they bound onto the stage and head straight into the chirpy 'Finding Something To Do'. Let it be known that whilst Hellogoodbye's recorded material may be subject to critical opinion, they sure do know how to put on a good show. The banter between Forrest Kline and his band mates flows throughout providing endless entertainment for the crowd, at one point they even take the bizarre request to play Slayer's 'Raining Blood'.
As the band run through their saccharine power pop, it's clear that whilst the music they are making on songs like 'Baby, It's Fact' and 'Coppertone' may not be the best, they sure know how to pull it off in a live scenario and hats off to them for doing so. However, the use of an auto-tune microphone on songs like 'Here (In Your Arms)' give the whole thing somewhat of a glossy, artificial feel to it. However, they put on an enjoyable show, and despite its questionable content they actually do know how write a catchy hook that will have even the utmost cynic tapping their foot. On a night where The Dangerous Summer stole the show, there can be no complaints about anyone going home unhappy.
Written by Oliver Thompson