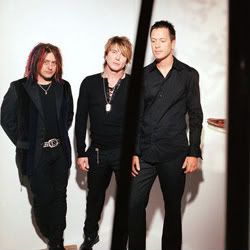 Date: July 11th, 2007
Venue: Apollo, Manchester
Support: Kids In Glass Houses
Rating: 8/10
Website: www.googoodolls.com
MySpace: www.myspace.com/googoodolls
Support act Kids In Glass Houses have just finished their set, and in a few minutes it's time for the rock veterans to come and close this Wednesday night in style. The Goo Goo Dolls have been going for just over 20 years now, and tonight they're playing in the Manchester Carling Apollo.
It's just gone 9:00PM, and suddenly everything turns to black. The stage lights shoot on, change colours, and flash like there's no tomorrow. The James Bond theme tune switches on and the band jump to the stage through the lights and smoke. The crowd is screaming their lungs out, and with a set lasting over an hour, the band have got to keep their energy up if they want to leave tonight with a pleased audience.
They seem to be focussing their set mainly on their 'Dizzy Up The Girl' album, playing classics like 'Slide' which the audience sings right back at them. Bassist Robby Takac is pacing across the stage like a crazy man, and occasionally smacking at his strings like a drum kit, really showing his passion for the music and enjoying himself as much as possible.
The Goo Goo Dolls soon surprise the audience with a song that they claim they've never actually never played live before tonight's gig, 'Acoustic #3', a soulful and moving piece that sends a smile onto the faces of most people within the audience. A few more songs into the set, with John Rzeznik and Robby Takac changing vocal duties here and there, the band play 'Black Balloon' where they have something special instore for the crowd. Once the song begins, several large black balloons are released onto the standing audience, which are knocked over onto the stage one after the other.
The night is coming towards an end soon, but not before the band play one of their most popular songs – 'Iris'. Immediately the reaction from the audience is immense. People are cheering, screaming, and applauding like their lives depend upon it. Looks of astonishment come from JohnWritten by Zach Redrup