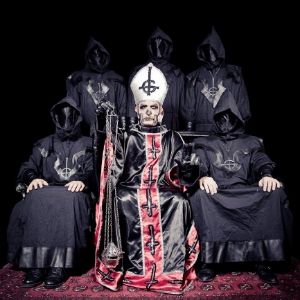 Date: March 20th, 2013
Venue: O2 Academy, Bristol
Support: Revoker / The Defiled / Gojira
Website: www.ghost-official.com
Facebook: www.facebook.com/thebandghost
Twitter: www.twitter.com/thebandghost
Rating:


The Jägermeister Music Tour is an annual tour that celebrates all things metal, and it costs only five measly pounds. A sea of orange floods the Academy this year for another marriage between heavy music and alcohol, one of the best and most stable marriages you'll ever find.
Local supports are opening each show on the tour, and for Bristol it's Revoker (**). Their inoffensive, no frills hard rock provides a taster of the evening's entertainment to come.
The Defiled (**) are quite a sight, with their thick eyeliner and punk rock get up, but their industrial sound whips up a few half-hearted mosh pits for songs like 'Call To Arms' and new song, 'As I Drown'.
It's obvious who most punters are here to see though, and Gojira (****) do not disappoint. 'Explosia' and 'Flying Whales' provide a slow start to the set, but it picks up as 'L'enfant Sauvage' pounds out. It's impossible to resist banging your head to bangers like 'Oroborus' and 'The Heaviest Matter In The Universe', while newer tunes from newest offering 'L'enfant Sauvage' are spliced in with similar results. Though, it's unfortunately another case of "the sound guy should be shot" as Gojira play at a volume exceeding nauseating. Turning it up to 11 only works when all of your monitors aren't needling the red.
As the house lights come up, half the crowd heads for exit before the main set. Strange really, but when incense sticks are placed at the side of the stage and the church wall backdrop is revealed, you realise that this headliner is no ordinary band. This is Ghost (****). Nameless ghouls creep out onto the stage wearing something resembling Darth Vader masks and in a fog of smoke, Papa Emeritus greets us with a raising of his arms. It takes a good few songs of terrifying awe before the novelty wears off, and it's during this time that we are treated to a mix of songs from upcoming album 'Infestissumam' and debut, 'Opus Eponymous'.
The usual mid-set drop in interest is countered by classics like 'Death Knell' and 'Genesis' providing a real I'll-go-after-this-song-no-this-song vibe to the set. Thanks to the hamfisted sound work it's impossible to understand what Papa Emeritus is saying, but he's not a chap of many words anyway. His emotionless skeletal face merely judges the audience and adds to the quirkiness. Song number twelve 'Ritual' brings Ghost's visit to a close, but a short encore of a new song ('Monstrance Clock') whets the appetite for the April 9th release date for 'Infestissumam'.
Written by MG Savage
Founder & Editor for DEAD PRESS!