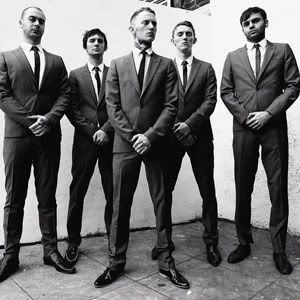 Date: July 7th, 2011
Venue: The Quarterhouse, Folkestone
Support: 33, Bastions
Website: www.gallows.co.uk
MySpace: www.myspace.com/gallows
Rating:

The Quarterhouse is a striking building, found in the heartland of Folkestones' Creative Quarter. Nicknamed 'the cheese grater' because of its strange metal design, the venue houses a great bar and restaurant as well as a small theatre room for all kinds of shows. An unassuming place in a quiet part of town. Hardly a place you'd except to find Watford punks Gallows, who after the release of 'Grey Britain' in 2008 and a string of legendary shows on the festival circuit, have far outgrown the tiny confines of places like the Quarterhouse. Nevertheless, it's a treat for fans to be able to get so up close and personal with the band as they return to the kinds of venues that they played at the start of their career.
33 (***) open the night up. Their sound is interesting, but most of the definition is lost to the sloppy PA. They get polite applause from the small crowd. Bastions (***) fair much better, as more people flood in from the bar to watch them. It is a spirited performance that gets heads nodding if not banging. Frontman Jamie Burne has an impressive scream on him and good stage presence, riling the crowd up and delivering his lyrics with conviction. The set is tight and their music is furious; a perfect warm up for what is yet to come.
The crowd is cheering before any members of the band take the stage, as Lags (guitar) and Stuart (bass) stand at the side of the stage chatting. Moments later, they stroll over to their instruments and unleash the first chords of 'London Is The Reason'. Frontman Frank Carter strides up to the mic and screams, and from here Gallows (****) have arrived. It's a short but brutal set, the pit raging throughout as fans throw themselves into each other and sing back at the stage. Tonight, precision and accuracy are sacrificed for sheer energy and bile, imbuing Gallows sound with menace. The crushing 'Misery' and 'The Riverbed' get great reactions, but 'In The Belly Of A Shark' is the highlight of the set as the whole room rushes forward to grab at the band, to get in their faces and sing their words back at them.
Frank has gained a reputation over the years for being a lairy frontman, and there's plenty of evidence littered across YouTube of his anti-social exploits when it comes to engaging with (or intimidating) his crowd. In this case he seems to be on his best behaviour, which is a little disappointing. There's a certain feeling about this show, with their Saturday slot at Sonisphere looming, that this is something of a warm-up gig, and that the band are holding something back. The show is good, but it never quite reaches those legendary heights that all the best gigs are able to achieve.
Still, it's difficult to feel disappointed. With songs like 'I Dread The Night', 'Black Eyes' and set closer 'Orchestra Of Wolves', this is a fan's dream: getting to hear the band's best material in a room small enough to feel the spit on your face from their roaring mouths. It's unlikely that it will go down as one of their best shows, but it is clear that every one in attendance has had a great time, thrashing out to one of Britain's greatest punk bands.
Written by Grant Bailey