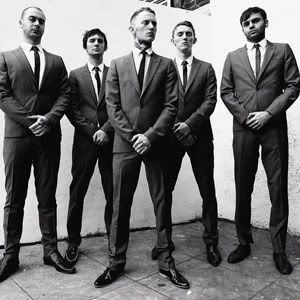 Date: June 27th, 2011
Venue: Moho Live, Manchester
Support: Hang The Bastard, Bastions
Website: www.gallows.co.uk
MySpace: www.myspace.com/gallows
Rating:


Gallows seem to permanently be on tour, having played in this venue not only 6 months ago. This is a good thing though, for they are known to put on one hell of a show. Playing in Moho Live, this venue seems tailored to exactly the atmosphere they want to create; a small, intimate and therefore chaotic crowd. Once walking into the venue, one noticable feature is the lack of any form of barrier. This could prove to be very interesting.
Hang The Bastard (****) take the stage with a somewhat awkward transition between setting up and actually starting the set. However, this is insignificant compared to the sheer carnage that follows. Lead vocalist Chris stomps around the stage like a pissed of redneck, commanding everyone to move in closer creating a strong intimate environment. Their songs are all over the place, one minute they have melodic instrumental grooves similar to that of Down or Machine Head, and the next they're inducing chaos with brutal songs like that of Pig Destroyer. 'Hell's Teeth', for example, has more limbs flailing than a cocaine and seizure party. But the crowd love them, tearing up the place with each heavy-as-fuck song.
Bastions (***) have more of a clean-cut look, but don't let that fool you. Jumping into the vacant space created by the crowd, they launch into their set. They sound like a mix of Parkway Drive and Cancer Bats (a winning combination to my ears), but the crowd however begs to differ. For the majority of the set, everyone just nods along politely, if vocalist Jamie Burne had taken command like their processors Hang The Bastard then this would have been an immense set. It takes for Frank Carter (who had been watching from the side) to actually join in the set to finally get the crowd going. I'm not sure if it was just an act or whether it was real, but throughout the set it seemed like Jamie McDonald was exorcising some personal demons, snarling down the microphone with his face twisted with angst and torment. Never the less, it was an outstanding performance with an unfortunate sub-standard reception.
Before Gallows (*****) even take the stage, most of the men of the crowd remove their shirts. It's like something from Fight Club (but we're not meant to talk about it). They swagger onstage and instantly dive into 'Leeches' to which the venue erupts in a sea of jumping and moshing, as well as invading the stage. Frank looks out at the sheer havoc he has caused and merely smirks, like this is all part of his daily routine. And he's full of ideas too, ordering people to create human pyramids, run around a venue-wide circle pit and create a wall of death the size of the room. The crowd look border line rapid, with a glint of insanity in their eyes as they mindlessly charge at each other with a huge grin on their faces.
By the end of the night, there were so many sweaty, shirtless, testosterone-driven men that you all you needed was some Lady Gaga and you would have something that looked like Manchester hottest gay bar. Quite literally too, it was fucking boiling. But my god, it was an amazing show. My only issue is that it was too short, but it's quite likely we'll get to see them again very soon.
Written by Andy Roberts