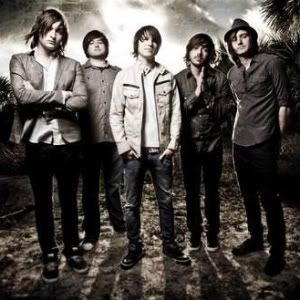 Date: September 21st, 2010
Venue: Academy 3, Manchester
Support: Brooke, Just Surrender
Website: www.framinghanley.net
MySpace: www.myspace.com/framinghanley
Rating:

Bands who become popular from covering a song usually lead to a quick demise, slowly disintegrate into nothing or are simply rarely ever known for any other song outside the field of diehard fans. Framing Hanley feared to fall into any of these fields with their cover of Lil' Wayne's 'Lollipop', but with latest record 'A Promise To Burn' they're confident they're to push far from the evil side of the double-edged sword. With a string of sold out dates and venue upgrades on their first trip to the UK, they may well have shaked it off.
Welsh openers Brooke (*) don't kick things off well at all, most notably due to frontman Alex's mostly annoying and off tune vocal work. It's a shame though, as their songs are structured tight and whipped into decent shape, but this is almost completely overlooked by Alex's high pitched drones that often break up mid-note. They even manage the almost impossible of making a Jason Derulo song worse than it already is. It's a wonder why the crowd before them are getting any notable level of entertainment.
If only the night had started as well as Just Surrender (***) manage to make things out to be. Their powerpop with rawness is just what's needed to warm up the crowd's bodies and ears properly in time for the night's headliners. The dual vocal apporach through a set of oldies and newbies like 'Crazy', 'I Can Barely Breathe' and 'She Broke My Heart, So I Broke His Jaw' is both energetic and entertaining – something the openers failed to achieve any success in providing – with their hard yet accessible melodic hooks.
It's easy to see however that Framing Hanley (***) are the main attraction this evening. Though their alternative rock isn't anything steering any considerable distance whatsoever away from generic and cliche, the band manage to bring it across with enough finese, style and prowess to make it something worth watching. The screams and chants for frontman Kenneth Nixon even before and a few minutes after leaving the stage may be early signs of a new teen girl icon in the making, but with a note perfect voice he's definitely deserving of respect past the 'scene' appearance. Songs like 'You Stupid Girl' and 'Built For Sin' are delivered much more hard-hitting than they are on record, showing the band are settling comfortable with their first UK tour. The constant thanking and talking with the fans shows their appreciation, and the favour is returned when guitarist Ryan Belcher briefly experiences amp problems, and of course during their closer and popular cover of 'Lollipop'.
It seems something more needs to be pulled out of the hat to make a lasting impression and deserving of their buzz however, though there's much time for improvement that Framing Hanley can have their chance to prove their full worth at the upcoming 2011 Kerrang! Relentess tour.
Written by Zach Redrup