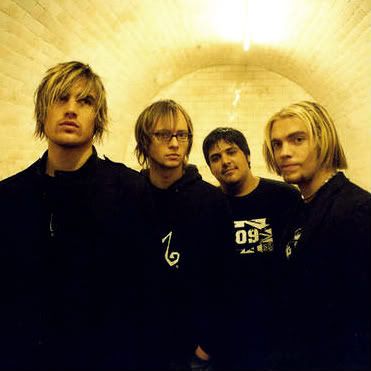 Date: June 15th, 2008
Venue: Main Stage, Download Festival
Support: N/A
Rating: 7/10
Website: www.fightstar.com
MySpace: www.myspace.com/fightstarmusic
With a member holding a past of being a member of a pop band as big and as cheesy as Busted, you would expect for Fightstar to have a bottle or two thrown at them playing the main stage at Download.
The thing is, since the band formed and made their presence known in 2003 they've grown into a respectable band, and they're not bad at writing and performing their songs, but due to the musical past of Charlie Simpson they may not ever be fully respected. However, despite this, very few bottles were thrown onstage while the band played fan favourites like 'Paint Your Target', 'Palahnuik's Laughter', and 'Build An Army'. Charlie has grown his confidence tremendously, developing into a rock star of his own rights. The band's closer 'Deathcar' shows clear evidence of his growth in confidence along with the other three members of the band, and proving that they deserve to play a slot on the main stage of Download festival.
Fightstar deserve a lot more respect than they get given, and if any of the haters turned their opinion due to their performance then they're on their way there.
Written by Zach Redrup