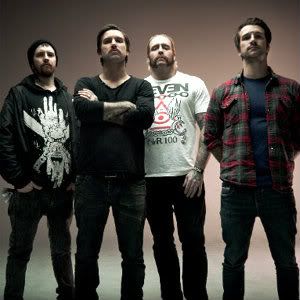 Date: October 31st, 2012
Venue: Club Academy, Manchester
Support: Last Witness / Stray From The Path
Website: www.everytimeidie.net
Facebook: www.facebook.com/everytimeidie
Twitter: www.twitter.com/everytimeidie
Rating:


Last time I saw Every Time I Die, it was on the Hell On Earth tour way back in 2010 and it was quite possibly the best gig I have ever been to. Because of that, I went into this gig with ridiculously high expectations that I knew ETID would meet and surpass. Plus, with the added bonus of it being Halloween, there were some fucking amazing costumes. To the guy dressed as the Stay Puft Marshmallow Man from Ghostbusters, seeing you run around in a circle pit was one of the greatest things I have seen in a while. Love you man.
Hailing all the way from the city of London, Last Witness (**) have the near impossible task of warming up the crowd. As far as I'm concerned, they get an A for effort, with lead singer Theo forever trying to get the crowd to move in and get more involved. Imagine the down-tuned, destructive breakdowns of Architects mixed with the vocals of Frank Carter and you get Last Witness.
Stray From The Path (***) up the ante somewhat with their more appropriate brand of hardcore, laced with a few southern-esque riffs. Though more of the crowd seem to be more familiar with their work compared to Last Witness, they are still an unknown to the rest of them. However, those that do know them waste no time in wreaking havoc in the pit by stirring up a shit storm of hardcore dancing. Lead singer Drew York does his best to get the room more involved by coaxing them into circle pits and the like, but sadly his efforts fall short. Never the less, a great set by a promising band.
My words shall fail me when I try to describe just how good Every Time I Die (*****) are. It's clear that everyone's here just to see them. From the very instant 'Apocalypse Now And Then' started up to the final destructive riff of 'Floater', the crowd are one rabid, vicious monster that refuses to stay down. The sheer ferocity of the pit is staggering with a continuous torrent of bodies flowing over the barrier throughout the set. Perhaps it has something to do with Keith Buckley's spectacular beard. Mighty and unruly, it gives him a god-like presence that allows him to induce chaos amongst the masses with ease.
If you're going to be picky, then you could say the sound isn't as good as it could have been, but that is probably the only flaw. Buckley's screams are, as always, simply phenomenal both powerful and terrifying, especially during songs like 'Underwater Bimbos From Outer Space'. As a matter of fact, every member of the band plays to perfection.
Sticking to their roots, they play a hefty amount of old classics, such as 'Logic Of Crocodiles' and 'Emergency Broadcast Syndrome', whilst peppering the set with some new material like 'I Suck (Blood)'. A bold claim I know, but I maintain that ETID are, and ever will be, the best band that I have ever seen live.
Written by Andy Roberts