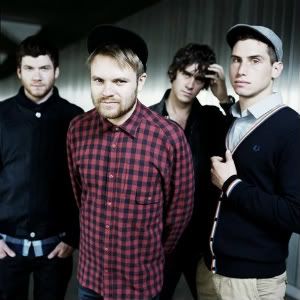 Date: October 7th, 2011
Venue: The Ritz, Manchester
Support: letlive., Your Demise
Website: www.entershikari.com
MySpace: www.myspace.com/entershikari
Rating:


It's been a long time waiting for Enter Shikari fans to hear the follow-up to 2009's 'Common Dreads' album, but with their October headline tour across the UK marking their last venture across the road before the release drops, it's once last chance to hear all their current hits before they inject a batch of new tracks into their set.
Consistently rising post-hardcore quintet letlive. (****) are known for their brilliant live performance, vocalist Jason Butler himself was recently crowned as the world's best frontman in a poll conducted by Kerrang! magazine, and it's not something you can support fully until you've witnessed them live. Though his bandmates certainly pack brilliant amounts of energy, Jason certainly sticks out and is hard to keep your eyes off of. 'Muther' and 'Day 54' show them at their most vulnerable yet exciting, and it won't be long until the crowd before them are all there to see them alone.
Your Demise (***) are easily the heaviest act on the night's bill, though walking onstage to Beyoncé's 'Best Thing I Never Had' you'd think a little different. However, once the opening chords of 'MMX' a struck they clearly reveal very different, with Ed McCrae's shrill screams inciting utter carnage on the dance floor. Plenty of circle pits erupt during a set consisting of 'Shine On' and 'Miles Away', enough to make you think that Your Demise could well have been the night's main attraction. The clean vocal sing-a-long of closer 'The Kids We Used To Be…' finishes off what's an impressive set for the forerunners of British hardcore.
This is nothing however compared to the blistering and intense performance from Enter Shikari (*****), who step up the game more than they've ever done before. Maybe this is due to the exceedingly heavier support line-up than they bring on the road with them usually, but the band appear much more frantic, explosive and ultimately fantastic on stage than they have been since their 2003 inception. The back-to-back bass heavy dubstep faces of 'Destabilise' and 'Mothership/Motherstep' gets the building and ribcages rattling from the get go, and this along with the dubbed-up mix kicked into older tracks 'Sorry, You're Not A Winner' and 'Juggernauts' show the band are still keeping their old tracks fresh – not only for themselves, but for the fans too. New album previews 'Sssnakepit' and 'Arguing With Thermometers' get the crowd hungry for the whole effort to finally hit their ears, and though obviously sing-alongs through these moments are hard to come by, they bring some of the biggest crowd reactions through the entirety of the set.
Written by Zach Redrup