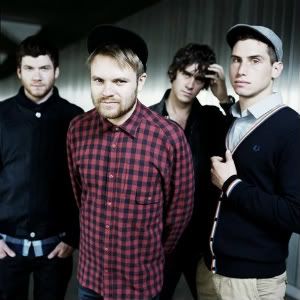 Date: December 6th, 2012
Venue: HMV Ritz, Manchester
Support: The Engine-Earz Experiment / Cancer Bats
Website: www.entershikari.com
Facebook: www.facebook.com/entershikari
Twitter: www.twitter.com/entershikari
Rating:

With their third album obtaining a plethora of praise from nearly all corners of the music industry, obtaining their highest charted full-length to date along with successful singles to boot and, most recently, the launch of their very own beer, it'd be an understatement to say that 2012 has been a great year for Enter Shikari. To close things off, the band are doing one last UK tour run before sitting in front of their TVs, stuffing their faces and opening presents.
Always ones to choose support acts that cater to both extremes of Enter Shikari's genre boundaries splicing, openers The Engine-Earz Experiment (**) sway far more to the electronic side of things. Though their light dance/R&B styling helps to ease things nice and early, this act seem intensely out of place on the bill and everything on stage just seems a bit confusing and muddled. Members are coming off, others are coming on and consistency loses any attention gained in the first few minutes.
Following up, Canadian punks Cancer Bats (***) obviously portray the more extreme, heavy and energetic elements of the evening's headliners. Right from the get go, frontman Liam Cormier and his fellow bandmates set to work and evidence of their relentless touring experience shines through. Of course, their cover of Beastie Boys classic 'Sabotage' goes down an absolute treat, sending bodies flailing in all directions and the stomps of 'Bricks & Mortar' and 'Hail Destroyer' do much of the same.
It makes sense however that the main attraction and, arguably, one of Britain's best modern live acts Enter Shikari (*****) steal the show. Leading into their show a few minutes beforehand with a short announcement track that you would've probably heard in the cinemas or radios of yore, the quartet take the stage and set things blazing with the one-two of 'System…' and '…Meltdown'.
What helps to push their live act ahead of so many of their peers seems to be the little things to keep their songs fresh in a live setting, even after so many years of playing them, keeping it new for themselves as well as their fans. Examples of which being the recently shaken not stirred, remodelled and reworked 'Mothership' (now titled 'Motherstep') and their slow-motion actions during 'Antwerpen'. But, as always, it's their blending of genres and hits like 'Arguing With Thermometers', 'Destablise' and oldie 'Labyrinth' (which, halfway through they take a break to enjoy some of that good ol' Sssnakepit beer) that get the biggest reactions.
One thing about Enter Shikari that sometimes does get forgotten, especially at their shows, is some of their less popular and more stripped down tracks. Taking to the centre stage with just an acoustic guitar, frontman Rou Reynolds can truly let the true potential of his voice shine with 'Gap In The Fence' and the beautiful encore of 'Constellations' complete with two cannon blasts of confetti across the HMV Ritz is almost a magical experience.
Written by Zach Redrup