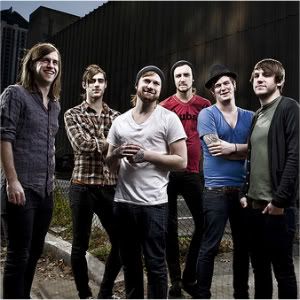 Date: May 22nd, 2010
Venue: The Roadhouse, Manchester
Support: We Don't Dance To Love Songs, Deaf Havana
Website: None available
MySpace: www.myspace.com/emarosa
Rating:

Since the release of their debut full-length 'Relativity' and their first trip to the UK supporting You Me At Six in March 2009, Kentucky's Emarosa popularity has become rapidly increasing. Their first headline tour across these isles with many sold out dates (Manchester being one of them) has proved to be just another piece of evidence to back-up this claim, and a reason to keep your eyes peeled for something big with their upcoming self-titled effort in a month's time.
Hull-based openers We Don't Dance To Love Songs (*) come onstage to a room not even one third filled, which is probably best with what they have on offer. Their pop-punk creations lack the pow or even a decent hook to get them off the ground and get the focus they're gonna need from the crowd. The lack of co-operation with in-between song banter to participate with the band reinforces the fact that they're just not that good. Maybe it's just a case of nerves, but more chances than not they're just not worth spending time on.
Still on a road of recovery and stabilisation from the loss of their main vocalist, Deaf Havana (***) manage to come out fists blazing like they've not lost anything. Though the recent absence of ex-vocalist and screamer Ryan Mellor is obvious and clear, the melodic and uplifiting vocals of James Veck-Gilodi brings a new look at songs like 'Nicotine And Alcohol Saved My Life' and 'In Desperate Need Of Adventure', and also a revitalising look at their foreseeable sound with newbie 'My Life Is Average'. The fans are still singing back almost every word coming from James' mouth, and shows promise of a bright new era for Deaf Havana.
Coming onstage dead on 8:00pm as scheduled, Emarosa (****) waste no time on getting the show on the road. It's clear that the main man in this outfit is vocalist Jonny Craig, a vocalist known and adored for his near perfect voice and ability. He lives up to expectations, with his voice as powerful with the mic to the mouth as it is two feet away from it, and rarely stepping off the small stand at the front of the stage. 'Pretend, Release. The Close' and 'Set It Off Like Napalm' causes an effect much like that described in the latter song title mentioned, and 'Heads Or Tails? Real Or Not?' igniting a flare within the crowd which sparks the biggest sing-a-long of the evening. Closer 'Casablanca' draws the curtains to a fine finish, seeing both the spectators and members of Emarosa crowd surfing amongst the sweat and energy created during the night.
It's clear that the UK love Emarosa, and with a new album in just over a months time we can only cross our fingers that a return will come along sooner rather than later. Kudos boys, kudos.
Written by Zach Redrup