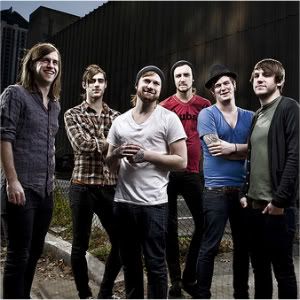 Date: December 8th, 2010
Venue: Club Academy, Manchester
Support: All Forgotten, Yashin
Website: None available
MySpace: www.myspace.com/emarosa
Rating:


Since their debut EP and a few line-up changes for the debut record, Emarosa have continued to change their style and sound to a much more refined, mature and melodic product. Where their debut 'Relativity' brought a more progressive sound, their eponymous full-length released earlier in the year cut off the meat and got rid of all the stringy and unnecessary bits. It's worked well in their favour, and with closing their 2010 with one last stint across the UK, it's been a more than great year for the Kentucky 6-piece.
Woking's All Forgotten (**) have recently made a change with their vocalist, and newbie Dan Lawrence has clearly slotted into his new position comfortably. His voice is spot on throughout the whole set, and though this is an obvious necessary requirement for a great performance, the overall vibe from the band as a whole isn't very impacting. 'A Love From A Mother' helps shine Dan through as a great vocalist, but other than this there's little memorable from their set.
The dual vocal force of Yashin (***) brings much more liveliness to the night's proceedings, vocalists Harry Radford and Kevin Miles are all over the place, with jumping into the crowd over the barrier and crawling along the ceiling being just a few things to happen over their 40 minutes onstage. Oldies like 'Mr. Hyde' show the band's heavier side, and newbies like 'Friends In High Places' bring into play the band's more modern and mainstream style. Despite their high levels of energy, there's not much showing any lasting impression, though Yashin's efforts should be noted and appreciated.
It's clear though as soon as Emarosa (****) take to the stage that this band are the reason that at least 90% of the attendees are here for, and the reaction towards opener 'The Past Should Stay Dead' only further embodies that. As always, Jonny Craig's voice is on top form, hitting every note as easy as any other from start to finish. 'Head Or Tails? Real Or Not?' and 'A Toast To The Future Kids!' gets most of the room singing back to almost every word, and the band bring across their melodic and soft post-hardcore sound as tight as always, especially the precise yet smashing drum work of Lukas Koszewski. Closer 'Set It Off Like Napalm!' finishes off the night brilliantly, with the band going all out for one last time, and brings to an end a great last night for the Kentucky 6-piece in Manchester for 2010.
Written by Zach Redrup