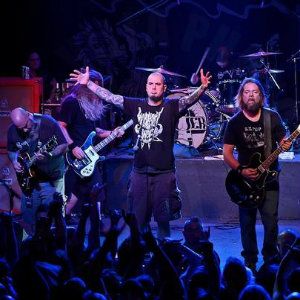 Date: October 19th, 2012
Venue: Academy 1, Manchester
Support: Warbeast / Orange Goblin
Website: www.down-nola.com
Facebook: www.facebook.com/down
Twitter: www.twitter.com/downnola
Rating:


After a year-long wait for Down to return, they embark on their 3-date UK run, starting with Manchester. The queue outside the Academy stretches long around the building before people cram into the huge venue, packing it to the back. There's anticipation in the air and you can already tell that this is going to be a memorable show.
Having signed to Phil Anselmo's record label, Housecore Records, openers Warbeast (***) accompany their mentor for the entire tour, bringing an entirely different kind of old school feel. Clad with spikes, studs and waistcoats, you can't help but compare them to bands such as Slayer. Their sound isn't too different either; fast thrash riffs, tearing solos and a name like Warbeast are all throwbacks to 80s metal. No one can doubt their sense of humour either; it's a healthy balance of experienced musicians not taking themselves too seriously. The music is a bit dated, but it doesn't hinder them from putting on a good show.
I'd heard good things about the next act, Orange Goblin (****), and no doubt a lot of people are there to see them. However, this was my first encounter. Again, another curve ball and another take on classic, old school music, they provide hard rock with a stoner vibe and totally kick arse whilst doing so. Singer Ben Ward towers above the crowd unleashing his monstrous growl, constantly egging the crowd on. This is a night for riffs and they certainly brought their own style to the proceedings whilst putting on a robust live show, gaining them at least one more fan.
Now it comes to Down (*****), and I don't think anything could have prepared me for what I was about to witness. Just being in the presence of such pillars in the music scene was enough to send the crowd into a frenzy. That unique, classic yet contemporary Down sound spews over the audience, fulfilling every expectation that they had. Of course, Down wouldn't be Down without the legend that is Phil Anselmo. A true professional, he really is the best in the game; his vocals still as strong and as vicious as ever, even after all these years. His lovable character and Southern drawl just fill the crowd with adoration. His passion for music is like no other. When one of the many huge Down riffs kicks in, you can see the look on his face. Pure satisfaction and excitement over a riff that he's heard for the past 17 years proves he's still as zealous as when Down was conceived.
Usually after 45 minutes of any set, I've had enough. Down played for an hour and a half and I was left wanting more. A perfect combination of timeless classics off every album mixed with brand new material kept the crowd enthralled and entertained. In classic Down style, they invite Def Con One drummer Antony Lant to play during their set closer, 'Bury Me In Smoke', for what was one of the most brilliantly epic finishes to any show that I've ever been to. If I could have rated this higher than 5 stars, I would have. Simply incredible.
Written by Jack Bastard