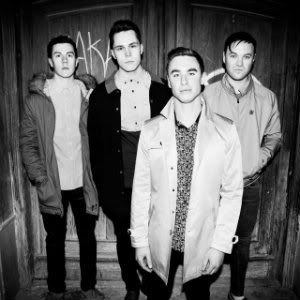 Date: February 21st, 2011
Venue: The Roadhouse, Manchester
Support: Leopards, From Embers, The Art Of Reason
Website: None available
MySpace: www.myspace.com/donbroco
Rating:

Despite having released their first proper EP 'Big Fat Smile' a few days before the beginning of their current and first headlining tour, Don Broco have managed to reel in a considerable amount of attentione to themselves throughout most of the dates. Their show at The Roadhouse in Manchester is no exception.
Local openers Leopards (**) face a couple of problems throughout their set. Sadly for the indie rock quintet, the main problem in their set isn't entirely a fault of their own, but with the sound desk. Often the instrumentation was overpowering frontwoman Jenna Clare, though the overuse of an echo/reverb effect didn't help. A little more interactivity and energy exchanged between the band and the crowd could've made some deal of a difference too.
Where Leopards lacked in energy however, From Embers (***) restored. Their post-hardcore/metalcore approach was an almost polar opposite to the night's predecessors, and Martin Day makes for a rather confident vocalist considering his young age. Songs like 'I've Never Been Better' struck major similarities with obvious influences like Alexisonfire and Underoath, and brought a bit more crunch to proceedings.
The Art Of Reason (***) follow-up and are an entirely different beast, but mullet sporting vocalist Chris Breckon has got enough charisma to fill at least half of the room, which comes in handy when drummer Lee Harvey breaks his snare and the group need to fill the silence. Througout Chris' voice is somewhat similar to Fred Durst's, which brings a great coincidence when the group decide to cover Limp Bizkit's single 'Break Stuff', and thankfully not murdering it either.
The amount of energy filling the room thus far however isn't comparable to the energetic eruption once Bedford's Don Broco (*****) take to the stage. Opener and arguably their most popular track 'Thug Workout' gets things going strong early on, with the night's first wall of death, gang shouts and most pits all making an appearance through the song's few short minutes. It doesn't quite stop there either, throughout the likes of 'Beautiful Morning', 'Top Of The World' and 'Do What We Do' there's human pyramids, people on other people's shoulders bouncing about, and even frontman Rob Damiani getting involved in the mosh pits for a second time. Exhilirating and brilliant, especially with just one proper EP release under their belts.
Written by Zach Redrup
Founder & Editor for DEAD PRESS!