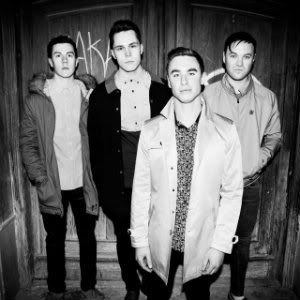 Date: March 2nd, 2013
Venue: Academy 2, Manchester
Support: Hey Vanity / Mallory Knox
Website: www.donbroco.com
Facebook: www.facebook.com/donbroco
Twitter: www.twitter.com/donbroco
Rating:


By now, Don Broco should be a household name, like Pringles or Germany. With all of the airplay the band get on BBC Radio 1 and all of the relentless supporting and touring they've been doing over the last few years, there's a bloody good chance you will have heard/seen them at one point, and quite right too. No one deserve success more than these lovely Bedford lads.
First on tonight's colourful bill are Essex four-piece, Hey Vanity (****), who pull off an excellent opening set. They effortlessly charm the crowd as soon as they appear on stage and, what's more impressive, is that they have nearly the whole room bouncing up and down within the first few seconds of their opening song. A true highlight of their set comes in the form of a cheeky cover of Outkast's hit single 'Hey Ya' which, much like the original, has everyone singing away and "shaking it like a Polaroid picture".
Pop-rock up-and-comers Mallory Knox (*****) are greeted with an almighty roar from a huge and eagerly awaiting crowd. They storm through their carefully chosen set with each song met with none stop movement and energetic pits. With lots of crowd interaction and a collection of brilliant songs, Mallory Knox are a perfect choice for a support act. Given that they're a fairly familiar band beforehand, tonight's performance and this tour in general will skyrocket them into many more regularly played playlists for sure.
Now, there's a reason why Don Broco (*****) have sold out every date of this tour, and that's because they're probably one of the best acts readily available in Britain today. Not only do the band sound fucking amazing live, but they put so much effort into their shows. Sometimes it's only little things that make a big difference like, for example, their simple choreography with moves like 'the walk' during 'Priorities' or their groovy shuffles during 'Hold On'.
Having spent most of last year supporting major tours, these guys gained some valuable crowd pleasing skills, all of which are unleashed upon us tonight, creating one of the best shows I've seen in a long time. With circle pits aplenty, a wall of death or two and a handful of downright chaotic pits, there's enough energy in the room to power a small country. With this being the last night for this leg of the tour, Don Broco truly give it their all and fuck me did it pay off. Hands down, tonight was the best gig of the year, and I see none on the horizon that will top it either.
Written by Andy Roberts