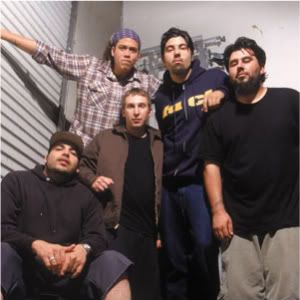 Date: November 14th, 2010
Venue: O2 Apollo, Manchester
Support: Coheed & Cambria
Website: www.deftones.com
MySpace: www.myspace.com/deftones
Rating:


In 2008, following the unfortunate car crash that resulted in bassist Chi Cheng falling into a coma, the future for Californian 5-piece Deftones was bleak and uncertain. The band however eventually decided to press on, with fill-in bassist Sergio Vega from the now defunct Quicksand, and released the critically praised 'Diamond Eyes'. Six months later, the band are finally touring the UK to support the record, and what an eagerly awaited tour it's been.
The distinctively less heavy but all so progressive Coheed & Cambria (****) are the only supporting act for the night, and to some this is sort of their tour too. With a set composed of material across their entire backcatalogue, the New York-based 5-piece display to both current and potential new fans their range of styles and tricks at their disposal, opening with 'In Keeping Secrets Of Silent Earth: 3' to great reception. Their slick, tight, and in frontman Claudio Sanchez's case as hyper as a kid suffering from ADHD on prozac and sweets. 'Here We Are Juggernaut' and 'A Favour House Atlantic' get many sing-a-longs from the crowd, and though the centre core of their set seemed a little lacking, they more than make up for that with a strong finish in 'Welcome Home', seeing Claudio perform a major chunk of the closing solo with the guitar either above his head or with the strings between his teeth.
Though a difficult contender to follow-up to, Deftones (*****) rise a head and shoulders length above their openers. Getting into the thick of things early with the intense recent single 'Rocket Skates', the vibe resonating from Chino Moreno and co. is empowering and exciting. Despite avoiding playing anything from 2006's 'Saturday Night Wrist', Deftones reel off material from their whole album backcatalogue, from the atmospheric and moving 'Minerva' and 'Be Quiet And Drive (Far Away)' to the insanely furious and explosively heavy 'Elite' and 'Engine No.9', the Californian five-headed machine are on top form and delivering great value for their wait to the mostly Mancunian crowd. Chino is a strong and charismatic frontman, keeping his talks brief and to the point whilst still maintaining charm and elegance. His voice is as insatiable, beautiful and venomous as ever, ranging from mournful cleans to raspy and high-register screams and yelps, backed by a powerful and dominating group of bandmates to make their Manchester show one of the biggest and best shows to grace Manchester for a while.
Written by Zach Redrup