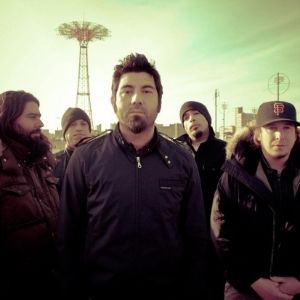 Date: February 18th, 2013
Venue: Academy, Manchester
Support: Three Trapped Tigers / letlive.
Website: www.deftones.com
Facebook: www.facebook.com/deftones
Twitter: www.twitter.com/deftones
Rating:


Not very often to you have a band born with the strength held within Sacramento's Deftones. Over 20 years into their career, the band are still as captivating as they were at the time of their breakthrough 'Around The Fur' back in 1997. A few months prior to this UK tour, latest full-length 'Koi No Yokan' hit the airwaves, and still sounds as important and exhilirating as anything they've ever released. They even maintain those attributes in a live setting too, so we'd be silly to not catch the Manchester date of their latest UK run.
Due to its lack of vocals, post-rock is not a very accessible genre, so someone wasn't doing their job properly when they got openers Three Trapped Tigers (*) to support. Well, there were some vocals, but they were the vocals of a tone-death monk just as he had been thrown down a well, and then having caught his eyelid on a rusty nail was then raped by a Marine wearing a barbed wire strap on. If you gloss over that aspect and focus on the music, there's some definite burst of talent from all three members, but for 95% of the set they produce this ungodly clusterfuck of a noise. I'm sure that in their own show, with their own audience, they would excel but in this environment I, amongst many others, just feel alienated.
However, letlive. (****) are another band entirely. Before a single chord is stabbed or a lyric uttered, frontman Jason Aalon Butler is already pacing frantically back and forth across the length of the stage like a caged animal, and with the opening one-two of 'Le Prologue' and 'The Sick, Sick, 6.8 Billion', he's also packing the passionate scream to match. From here on, it's chaos on stage and even off stage for set closer 'Casino Columbus', where Jason goes running through the crowd for a couple of minutes whilst guitarist Jeff Sahyoun scratches his jack lead across his strings to make some insane sounds. Glimpses into their yet to be released record with newbie 'Club 27', along with an ever improving set like this, gives strong hope that 2013 could well be theirs.
It goes without saying though, that even their sheer intense and animalistic showmanship can't quite match that of the prolific metal veterans, Deftones (*****). The huge crunchy blow with each chord and note played by Stephen Carpenter during opener 'Diamond Eyes' sets the tone perfectly for the next hour and a half to follow for the band's set. Each track sounds massive and aggressive, yet beautiful and majestic at the same time. Chino Moreno can shift his voice from graceful being to savage madman in less than seconds, evident in the likes of 'Feiticeira', 'CMND/CTRL' and 'My Own Summer (Shove It)' to name but a few highlights.
It's a very rare occurence when a band as far into their career as Deftones are still able to maintain consistent, relevant and as influential as they ever have been, putting much trust in their latest material, such as the bouncy 'Swerve City', hook ridden 'Poltergeist' and managing to entwine these with older tracks like 'Be Quiet And Drive (Far Away)', and all still sounding as fresh and exciting as one another.
Deftones are a band who define true longevity and will forever be a treasure to the metal genre, from now until their hopefully distant demise. Tonight, the Sacramento heroes proved that even the older dogs can still run way ahead of the young pups.
Written by Zach Redrup
Founder & Editor for DEAD PRESS!