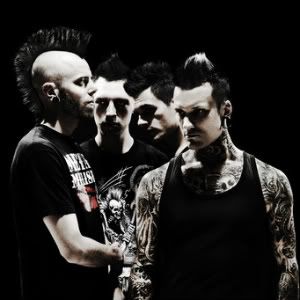 Date: December 8th, 2011
Venue: Academy 3, Manchester
Support: One Without, Marionette
Website: www.deadbyapril.com
Facebook: www.facebook.com/deadbyapril
Twitter: www.twitter.com/dbaswe
Rating:

Tonight's show was originally meant to be in November, but was moved to December for some reason. They are also a man down, with drummer Alexander Svenningson chose to take a few months off to rest his ears. Wise man. Never the less, they are back in Manchester and are here to promote their latest studio album, 'Incomparable'.
Originally, Machinae Supremacy were meant to be first support, but they dropped out, so One Without (***) fill their shoes instead. They are essentially Dead By April copied and pasted but with a hot female singer instead, WIN. They play a pretty standard set that frankly deserved a better response. Tracks like 'Your Game' and 'The Pretender' sound pretty amazing, but sadly don't really get the crowd moving.
SUIT UP, Marionette (*****) are here. Looking very dapper in their suits (and two of them looking an awful lot like Tim Minchin), they waltz onstage. Fuck me, these guys are good! By far the heaviest band of the night, it's like they grab you by the throat and force you to head bang along. Vocalist Alexander Andersson's screams are so god damn powerful and the duration he is able to hold them for is mighty impressive. In fact, the whole band play an outstanding set, so much so, they may just be my new favourite band.
Looking quite the opposite and very 'Brapp Brapp' tonight, Dead By April (****) are welcomed with a sea of screaming girls. Notably lacking a keyboard, my suspicions were roused and I suspect that there may have been some miming going on tonight (with regards to the perfect high notes and other things of the nature). However, they sound pretty bloody good and deliver a very entertaining show. Like when they launched into the REALLY heavy new songs, like 'More Than Yesterday' and 'Dreaming', that crowd lapped it up and there were room wide pits. But, it's when they brought out the first album songs that really got a reaction. Returning for an encore, DBA destroy the place with an über heavy version of 'Stronger' and use whatever remaining energy the crowd had left. By the end of the night, half the crowd was on the stage singing along with them, the kind of thing that you see in music videos. Overall, a bloody good show, and not bad for £7.
Written by Andy Roberts
Founder & Editor for DEAD PRESS!